About
Copper,

Brass,

and Bronze
Ultra-Machinable

360 Brass Rods and Discs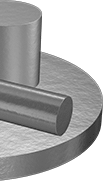 Yield

Strength:


Inch

sizes:

15,

000 psi
Metric

sizes:

23,

000 psi

Hardness:

See table

Temper:


Inch

sizes:

H02 (

1/2

Hard)


Metric

sizes:

1/2

Hard
Heat

Treatable:

No
Specifications

Met:


Inch

sizes:

ASTM B16
Metric

sizes:

European Standard

EN 12164
With the highest lead content of all the brass alloys, 360 offers the best machinability. Often called free-machining and free-cutting brass, it stands up to high-speed drilling, milling, and tapping operations with minimal wear on your tools. It's commonly used for gears, pinions, and lock components.
For technical drawings and 3-D models, click on a part number.

Certificates with a traceable lot number are available for these products. Download certificates from ORDER HISTORY after your order ships.