Wedge end is tapered on both sides of the bar.
Point end is often used for aligning bolt holes.
Pry bars with offset and gooseneck ends give you more leverage than straight ends.
Style C—Gooseneck Wedge End × Straight Point End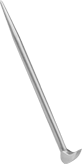 Point End

Wedge End
With 14 different head positions, these pry bars fit into difficult-to-access spots for maximum leverage. Because you set the head where you need it, these bars replace the need to have multiple pry bars on hand. Use them for jobs ranging from demolition work to aligning components. Made of steel, these pry bars meet ASME B107.410, so they'll hold up in heavy duty industrial work.
Bars with a smooth head have no ridges, so they easily slide into tight spots.
Bars with a grooved head grip better than bars with a smooth head. They're less likely to slip during high-torque prying.
Overall


Lg.

Weight
Size
Shape

Wd.

Style
Range
of
Motion
Material
Handle
Material
Specifications
Met
Each

Smooth Head

8"
12 oz.

5/8

"
Round

1/4

"
Wedge
180°
Black-Phosphate Steel
Steel
ASME B107.410
0000000
000000
10"
1 lbs.

5/8

"
Round

1/2

"
Wedge
180°
Black-Phosphate Steel
Steel
ASME B107.410
0000000
00000
16"
1

3/4

lbs.

5/8

"
Round

1/2

"
Wedge
180°
Black-Phosphate Steel
Steel
ASME B107.410
0000000
00000

Grooved Head

24"
5 lbs.

3/4

"
Round

7/8

"
Wedge
180°
Black-Phosphate Steel
Steel
ASME B107.410
0000000
00000
33"
6 lbs.

3/4

"
Round

7/8

"
Wedge
180°
Black-Phosphate Steel
Steel
ASME B107.410
0000000
000000