High-Torque

Flexible Shaft Couplings

Components of a Coupling Shown Assembled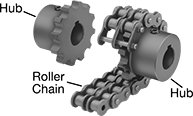 (Each
Component Sold
Separately)
With a rugged roller-chain design, these couplings provide excellent torque and angular misalignment capacities. Lubrication is required. Fasten to your shaft by tightening the set screws, which bite into the shaft to hold it.
A complete coupling consists of two hubs and one roller chain (each component sold separately). Complete couplings meet ANSI B29.23M-1995.
Optional covers retain grease lubrication and provide protection from abrasion and corrosion.
For technical drawings and 3-D models, click on a part number.
Orange Nylon
Plastic Covers

O'all




Lg.

OD
OD
with
Cover
For
Motion
Type
For
Shaft


Dia.

Each

Max.




Speed,


rpm

Max.




Torque,




in.-lbs.

Parallel
Angular

No.

Standard
Each
Each
2

9/16

"
2

13/32

"
4"
Continuous
0000000
000000
5,000
1,355
0.012"
2°
40-2
ANSI
0000000
000000
0000000
000000
2

9/16

"
3

3/64

"
4"
Continuous
0000000
00000
5,000
2,410
0.012"
2°
40-2
ANSI
0000000
00000
0000000
00000
2

29/32

"
3

25/32

"
5

1/8

"
Continuous
0000000
00000
4,000
4,610
0.012"
2°
50-2
ANSI
0000000
00000
0000000
000000
3

29/64

"
5"
6

3/8

"
Continuous
0000000
00000
3,000
10,900
0.012"
1.5°
60-2
ANSI
0000000
00000
0000000
000000