Legal-for-Trade

Inline Conveyor Scales
Reduce bending and lifting when weighing boxes that flow through your facility. These scales have conveyor rollers or ball transfers, so they fit right into your production line, allowing you to weigh boxes mid-flow and send them on their way.
These scales are National Type Evaluation Program (NTEP) approved for use with materials sold by weight. They have a variety of weight-measuring modes beyond just measuring the weight of a single object: The check-weigh mode flags boxes that are outside of a specified weight range, and the accumulation mode keeps a running weight of all objects measured. Hit the tare button to reset the scale to zero after placing a container on the rollers or ball transfers.
Scales include a stand for mounting the digital display above the scale, but you can also mount the display in front of the scale or on a nearby wall. Large, 1"-tall digits make it easy to read from a distance. Scales are rated IP65, which means they are dust tight and protect against low-pressure washdowns. Plug in to a standard outlet or use the rechargeable battery for up to 72 hours. Transmit data to your PC by connecting an RS-232 computer cord (not included) to the scale's DB9 port.
Use roller conveyor scales for straight-path flows.
Use ball transfer conveyor scales for receiving and diverting boxes in multiple directions.
For temporary jobs, set your scale up on a cart (sold separately), then roll it right up to your conveyor, workbench or anywhere else you need. Two of the casters are lockable, so the cart stays in place during longer jobs or when used in a conveyor line.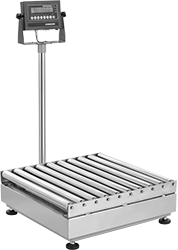 Roller Conveyor
Display Mounted to Scale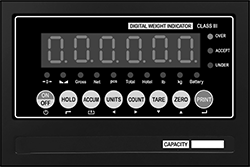 Display
Capacity
Accuracy
Graduations

Ht.

Wd.

Dp.

Ht.

Wd.

Dp.

Column


Ht.

Spacing
Projection

Dia.

Voltage
Cord


Lg.,




ft.

Batteries
Included
Environmental
Rating
Each
400 lbs.
(180 kg)
±0.05 lbs.
(±0.02 kg)
0.05 lbs.
(0.02 kg)
8"
18"
18"
24

1/2

"
18"
23"
23

1/2

"
1"

1/2

"
1

1/2

"
120V AC
5
Yes
IP65

0000000
0000000
500 lbs.
(225 kg)
±0.1 lbs.
(±0.05 kg)
0.1 lbs.
(0.05 kg)
8

3/8

"
24"
24"
32"
24"
29"
30

1/2

"
1"

1/2

"
1

1/2

"
120V AC
5
Yes
IP65

0000000
00000000
1,000 lbs.
(450 kg)
±0.2 lbs.
(±0.1 kg)
0.2 lbs.
(0.1 kg)
8

3/8

"
24"
24"
32"
24"
29"
30

1/2

"
1"

1/2

"
1

1/2

"
120V AC
5
Yes
IP65

0000000
00000000
Ball Transfer Conveyor Scales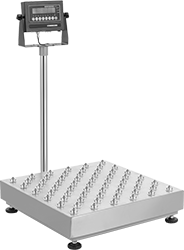 Ball Transfer Conveyor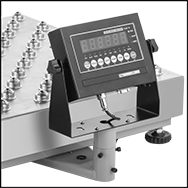 Display Mounted to Scale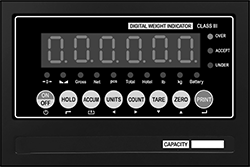 Display
Capacity
Accuracy
Graduations

Ht.

Wd.

Dp.

Ht.

Wd.

Dp.

Column


Ht.

Spacing
Projection

Dia.

Voltage
Cord


Lg.,




ft.

Batteries
Included
Environmental
Rating
Each
300 lbs.
(135 kg)
±0.05 lbs.
(±0.02 kg)
0.05 lbs.
(0.02 kg)
5

5/8

"
16"
16"
24

1/2

"
16"
21"
23

1/2

"
3"

1/2

"

1/2

"
120V AC
5
Yes
IP65

0000000
0000000
500 lbs.
(225 kg)
±0.1 lbs.
(±0.05 kg)
0.1 lbs.
(0.05 kg)
6

3/16

"
20"
20"
32"
20"
25"
28

1/2

"
3"

1/2

"

1/2

"
120V AC
5
Yes
IP65

0000000
000000
500 lbs.
(225 kg)
±0.1 lbs.
(±0.05 kg)
0.1 lbs.
(0.05 kg)
6

1/2

"
24"
24"
32"
24"
29"
30

1/2

"
3"

1/2

"

1/2

"
120V AC
5
Yes
IP65

0000000
000000
1,000 lbs.
(450 kg)
±0.2 lbs.
(±0.1 kg)
0.2 lbs.
(0.1 kg)
6

1/2

"
24"
24"
32"
24"
29"
30

1/2

"
3"

1/2

"

1/2

"
120V AC
5
Yes
IP65

0000000
000000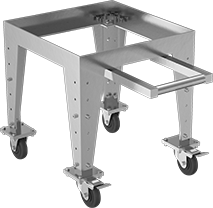 Cart
For Conveyor
Scale
Platform

Overall

Ht.

with Conveyor Scale

Wd.

Dp.

Roller
Ball
Transfer

Wd.

Dp.

Material
Each
18"
18"
28", 30

3/8

", 32

3/4

", 35", 37

3/8

"
__
10

1/4

"
8

7/8

"
Stainless Steel
0000000
0000000
24"
24"
29

1/4

", 31

5/8

", 34", 36

1/4

", 38

3/4

"
28", 30

3/8

", 32

3/4

", 35", 37

3/8

"
14"
9"
Stainless Steel
0000000
000000