Benchtop Rolling Mills
With hardened rollers and precision-machined gears, these rolling mills stand up to heavy use. They're often used to compress sheets to an uncommon gauge size, convert scrap metal into sheets or wire, or create different thicknesses in a single piece of metal without welding multiple pieces together. After several passes through the mill, you may need to anneal your metal to soften it and prevent cracking.
Manual mills are gear driven, making them easier to turn than direct-drive rolling mills. Their rollers have grooves so you can form square and half-round wire in addition to sheets.
Electric mills do not require hand cranking, so they provide the power you need to complete high volumes of work. They have flat rollers for creating uniform sheets.
Gear speed ratio indicates the force it takes to turn the output gear. For instance, the manual rolling mill has a 4:1 gear ratio, meaning that you rotate the handle four times to turn the gear powering the rollers once.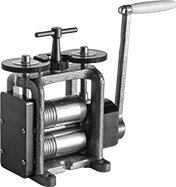 Manual
Wd.

Thick.

Square
Wire
Size

Half-Round


Wire
Size
Gear
Speed
Ratio

Ht.

Wd.

Dp.

Handle


Lg.

Dia.

No.


of
Material
Frame
Material
Mounting
Fasteners
Included

No.


of

Dia.

Each

For

Aluminum,

Brass,

Stainless

Steel,

Steel

2

9/16

"

3/16

"

3/64

",

5/64

",

1/8

",

5/32

",

3/16

",

13/64

",

7/32

",

15/64

",

1/4

"
0.098", 0.118", 0.157"
4:1
14"
12"
8"
12"
2

1/2

"
2
Steel
Cast Iron
No
6

3/8

"
0000000
0000000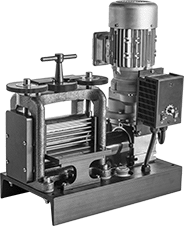 Electric
Wd.

Thick.

Gear
Speed
Ratio

Ht.

Wd.

Dp.

Dia.

No.


of
Material
Frame
Material

Horsepower,


hp

Max.


rpm

Current,


A
Voltage
Cord


Lg.,




ft.

Mounting
Fasteners
Included

No.


of

Dia.

Each

For

Aluminum,

Brass,

Stainless

Steel,

Steel

6

1/4

"

3/16

"
100:1
19"
22"
15"
2

1/2

"
2
Steel
Cast Iron

1/2

13
1.7
120V AC
5
No
4

1/2

"
0000000
000000000