Mounting Bases for
Wind-Driven

Roof-Mount

Exhaust Fans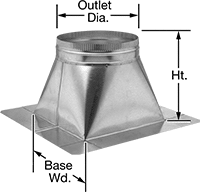 Flat Base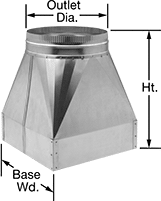 Straight Base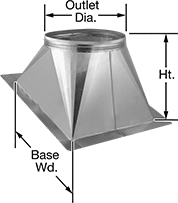 Slope Base

All bases have a square bottom, round top, and flashing to simplify installation.
To Order: For slope bases, please specify pitch: 1/12-11/12 in increments of 1/12. To determine pitch, use an angle indicator or divide rise by run (see illustration). For instance, if your roof rises 5" in 12" of horizontal space, your pitch is 5/12.
For technical drawings and 3-D models, click on a part number.
Flat Bases
Outlet


Dia.

Base


Wd.

Ht.

Flashing


Wd.

Bottom
Shape
Each

Galvanized Steel

8"
10"
10"
4"
Square
0000000
000000
10"
12"
10"
4"
Square
0000000
00000
12"
14"
10"
4"
Square
0000000
00000
14"
16"
10"
4"
Square
0000000
000000
16"
18"
10"
4"
Square
0000000
000000
18"
22"
10"
4"
Square
0000000
000000
20"
24"
10"
4"
Square
0000000
000000
24"
30"
12"
4"
Square
0000000
000000
Straight Bases
Outlet


Dia.

Base


Wd.

Ht.

Flashing


Wd.

Bottom
Shape
Each

Galvanized Steel

8"
10"
10"
4"
Square
0000000
000000
10"
12"
10"
4"
Square
0000000
00000
12"
14"
10"
4"
Square
0000000
00000
14"
16"
10"
4"
Square
0000000
000000
16"
18"
10"
4"
Square
0000000
000000
18"
22"
10"
4"
Square
0000000
000000
20"
24"
10"
4"
Square
0000000
000000
24"
30"
12"
4"
Square
0000000
000000
Slope Bases
Outlet


Dia.

Base


Wd.

Ht.

Flashing


Wd.

Bottom
Shape
Choose a Roof Pitch
Each

Galvanized Steel

8"
10"
10"
4"
Square
0000000
0000000
10"
12"
10"
4"
Square
0000000
000000
12"
14"
10"
4"
Square
0000000
000000
14"
16"
10"
4"
Square
0000000
000000
16"
18"
10"
4"
Square
0000000
000000
18"
22"
10"
4"
Square
0000000
000000
20"
24"
10"
4"
Square
0000000
000000
24"
30"
12"
4"
Square
0000000
000000