High-Efficiency

AC to AC Phase Transformers for Light Loads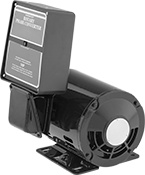 Run your motors at 100% of their normal power. These transformers generate three-phase output power from a single-phase input. Also known as rotary converters.
Select a transformer with a power output that exceeds but comes closest to the power requirement of your largest motor. When using multiple motors, start the largest motor first. Then start smaller motors individually until their total horsepower requirement is no more than twice the power output of the transformer.
Input
Output
Power


Output,

hp

Ht.

Wd.

Dp.

Each

Single Phase

Input/Three

Phase

Output—

Wire Leads Input and Output

220V AC
220V AC
1
13"
12"
10"
0000000
0000000
220V AC
220V AC
3
13"
13"
11"
0000000
00000000
220V AC
220V AC
5
13"
13"
11"
0000000
00000000
220V AC
220V AC
7.5
18"
14"
12"
0000000
00000000
220V AC
220V AC
10
18"
14"
12"
0000000
00000000