Send temperature readings from RTD probes in containers, tanks, and pipes to switches and programmable logic controllers (PLCs).
Transmitters with IO Link let you change settings, read measurements, and receive error messages remotely when connected to a PLC via an IO Link controller (not included).
For technical drawings and 3-D models, click on a part number.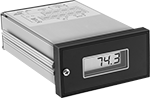 Panel Mount
For RTD
Probe
Type
Temperature


Range,




°C

DIN
Trade
Size

Ht.

Wd.

Ht.

Wd.

Dp.

AC
Voltage


(Phase)

Output
Current
Housing
Material
Display
Resolution
For

Max.


Wire
Gauge
Each

Screw Terminal Connection Type

100 ohms
-50° to 850°

1/8

1

3/4

"
3

5/8

"
1

7/8

"
3

7/8

"
6

1/16

"
120, 240 (Single)
4-20mA
Aluminum
LCD
1
26
00000000
0000000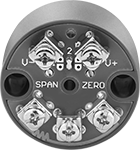 Head Mount with Screw Terminal Connection

Head Mount
with Micro
M12 Connection
For RTD
Probe
Type
Temperature


Range,




°F

Dia.

Dp.

DC
Voltage
Output
Current
Output
Voltage
Communication
Protocol
Housing
Material
For

Max.


Wire
Gauge
Environmental
Rating
Each

Screw Terminal Connection Type

100 ohms
0° to 250°
1

11/16

"

13/16

"
12-36
4-20mA
__
__
Plastic
26
__
00000000
000000
100 ohms
0° to 500°
1

11/16

"

13/16

"
12-36
4-20mA
__
__
Plastic
26
__
00000000
00000

4-Pole

Micro M12 Connection Type

100 ohms/1,000 ohms
-55° to 300°

3/4

"
2"
20-32
4-20mA
__
IO Link
Plastic
__
IP67

00000000
000000
100 ohms/1,000 ohms
32° to 212°

3/4

"
2"
20-32
4-20mA
__
IO Link
Plastic
__
IP67

00000000
000000
100 ohms/1,000 ohms
32° to 212°

3/4

"
2"
18-32
__
0-10V DC
IO Link
Plastic
__
IP67

00000000
000000