Fast-Setting

Casting Compounds
Create detailed rubber shapes that are ready to use in fifteen minutes or less. Unlike traditional casting compounds, which can take up to 24 hours to set, these compounds harden after two minutes, and can be removed from molds within fifteen. Use them to make your own prototypes, molds, and linings.
Combine acrylic or silicone with a 69° cure temperature compounds in different ratios to adjust the consistency from thin to thick. Thin mixtures are easier to pour and better for filling small crevices. Thick mixtures will shrink less as they dry.
Silicone with a 70° cure temperature compounds are a putty that you can mix with your hands and form into any shape. Press an object into these compounds to create a mold for casting duplicates. They do not shrink as they dry, so textures and other fine details are captured faithfully. Soft silicone is more flexible and easier to peel off of molds than firm silicone, especially when making complex shapes.Firm silicone holds its shape better than soft silicone, so small ridges and channels are less likely to collapse or deform while making molds.
Compounds with dispenser gun come ready to use—no mixing required—and won't leave a mess.
See-Through

Casting Compounds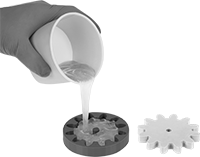 Create transparent molds to monitor fill levels, differentiate parts at a glance, and avoid damaging parts when cutting the mold away. These casting compounds are two parts that activate when mixed.
Silicone compounds handle higher temperatures than urethane compounds—up to 570° F. Silicone also cures faster than urethane, and it won't shrink as it cures, which means you won't need to guess at the final size of your mold. Because silicone compounds trap air bubbles when mixed, they must be cured inside a vacuum chamber. The chamber removes the trapped air bubbles, strengthens the mold, and improves its clarity.
View our selection of release agents. View additional information about the hardness of these materials.
Hardness
Time
to
Harden
Time
to
Cure
Time
to
Demold

Max.




Temperature,




°F

Shrinkage
Color
Mixing
Required

Volume,




cu.




in.

Weight,




lbs.

Each

Silicone Rubber

Firm

Durometer 40A
10 min.
1.5 hrs. @ 77° F, 30 min. @ 120° F
1.5 hrs. @ 77° F, 30 min. @ 120° F
570°
0%
Blue
Yes
57
2.2
0000000
0000000
Chemical-Resistant

Casting Compounds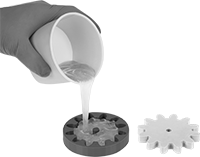 This silicone compound offers good resistance to acids, oils and salt water. Use it to capture intricate details when creating prototypes, molds, and linings with this easy-to-mix two-part compound. It is a durable and tear-resistant silicone, which easily demolds.
View our selection of release agents. View additional information about the hardness of these materials.