Coating Material

Coating Material
DFARS (Defense Acquisition Regulations Supplement)

DFARS

(Defense

Acquisition
Regulations

Supplement)
Liquid-Resistant

Shop Aprons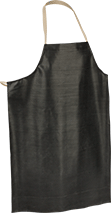 Made of SBR-coated polyester, these aprons repel water and other nonhazardous liquids. They have a tie in the back.
Oil-Resistant

Shop Aprons
Rubber coatings keep oil, water, and other liquids from penetrating these aprons. They tie in the back.
Acrylic/Buna-N blend won't crack in cold conditions. These aprons provide good abrasion resistance and have a soft polyester/cotton backing.
Buna-N coated cotton/polyester is durable, yet more flexible than Buna-N coated polyester. These aprons also withstand solvents.
Buna-N coated polyester is thicker than Buna-N coated cotton/polyester for added durability. In addition to resisting oil, these aprons withstand some solvents.
Neoprene-coated nylon aprons also resist fats, grease, and some solvents. With long sleeves, these aprons provide more coverage than other aprons so they're often used in transferring liquids and food processing. They have elastic cuffs to keep splashes out.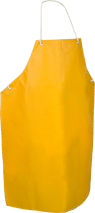 Lg.

Wd.

Thick.,


mil
Closure
Type
Features
Color
Size

1-5

6-Up

Acrylic/Buna-N

Fabric Blend

45"
33"
19
Tie
__
Yellow
One Size
000000
000000
000000

Buna-N

Rubber-Coated

Cotton/Polyester

Fabric Blend

35"
29"
16
Tie
__
Black
One Size
0000000
00000
00000
45"
35"
16
Tie
__
Black
One Size
0000000
00000
00000

Buna-N

Rubber-Coated

Polyester Fabric

48"
35"
23
Tie
Adjustable Neck Strap
Yellow
One Size
000000
00000
00000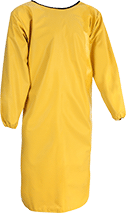 Front
Material
Chest
Size

Lg.

Thick.,


mil
Closure
Type
Color
Size

1-5

6-Up

Neoprene Rubber-Coated Nylon Fabric
36"/38"
50"
12
Tie
Yellow
S
00000000
000000
000000
Neoprene Rubber-Coated Nylon Fabric
40"/42"
50"
12
Tie
Yellow
M
00000000
00000
00000
Neoprene Rubber-Coated Nylon Fabric
44"/46"
50"
12
Tie
Yellow
L
00000000
00000
00000
Neoprene Rubber-Coated Nylon Fabric
48"/50"
50"
12
Tie
Yellow
XL
00000000
00000
00000