Flexible Furniture Grommets

Squeeze this flexible grommet to open the center flap—once wire, cable, and cords pass through, the flap closes tightly for dust and debris protection as well as a finished look. Use this grommet to eliminate cord clutter on desktops, countertops, benchtops, and other work surfaces. Push it into place.
For technical drawings and 3-D models, click on a part number.
For Hole


Dia.

Flange


Dia.

Dp.

Under
Flange

Temp.




Range,

°F

For Use
Outdoors
Color
Each

Santoprene Rubber

3"
3

15/32

"

5/8

"
-70° to 270°
No
Light Gray
0000000
00000
Super-Soft

Greaseproof Antifatigue Mats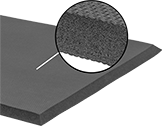 Thicker than our other greaseproof antifatigue mats, these mats have more cushion for greater comfort. Use them where grease and oil are constantly present. Also known as ergonomic mats, they reduce the fatigue and strain of standing while working. The surface is slip resistant for good traction.
Wd.

Lg.

Thick.

Material
Edge
Profile
Number of
Tapered
Edges
For
Use
Outdoors
Color
Each

Textured

20"
24"

3/4

"
Buna-N Rubber
Tapered
4
No
Light Gray
000000
000000
20"
33"

3/4

"
Buna-N Rubber
Tapered
4
No
Light Gray
000000
00000
22"
48"

3/4

"
Buna-N Rubber
Tapered
4
No
Light Gray
000000
000000
22"
72"

3/4

"
Buna-N Rubber
Tapered
4
No
Light Gray
000000
000000
24"
36"

3/4

"
Buna-N Rubber
Tapered
4
No
Light Gray
000000
00000
24"
42"

3/4

"
Buna-N Rubber
Tapered
4
No
Light Gray
000000
00000
30"
36"

3/4

"
Buna-N Rubber
Tapered
4
No
Light Gray
000000
000000
36"
36"

3/4

"
Buna-N Rubber
Tapered
4
No
Light Gray
000000
000000
36"
42"

3/4

"
Buna-N Rubber
Tapered
4
No
Light Gray
000000
000000
36"
60"

3/4

"
Buna-N Rubber
Tapered
4
No
Light Gray
0000000
000000
40"
48"

3/4

"
Buna-N Rubber
Tapered
4
No
Light Gray
0000000
000000
42"
72"

3/4

"
Buna-N Rubber
Tapered
4
No
Light Gray
0000000
000000