Grease-Resistant

Interlocking Antifatigue Mats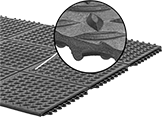 Diamond Tread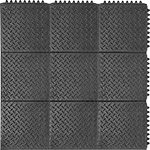 Diamond Tread
(Shown Interlocked)
These mats withstand occasional contact with grease. They have integrated connectors, so you can link multiple mats to create the size and shape you need. Also known as ergonomic mats, they provide cushion to reduce the fatigue and strain of standing while working. The surface is slip resistant for good traction. Unused connectors can easily be cut off for a finished look.
Wd.

Lg.

Thick.

Mat
Hardness
Material
Edge
Profile
For Use
Outdoors
Color
Each

Diamond Tread

36"
36"

1/2

"
Soft
Buna-N/Natural Rubber
Flat
Yes
Black
0000000
0000000
Food Industry Drainage Mats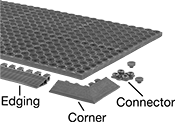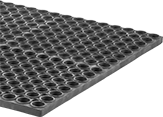 These mats meet NSF/ANSI standards for use in food-processing areas. Made of soft, flexible rubber, they are comfortable and easy to roll up for cleaning underneath.
Buna-N/natural rubber mats withstand occasional contact with grease.
Wd.

Lg.

Drainage
Opening

Dia.

Edge
Profile
For Use
Outdoors
Specifications
Met
Material
Each
36"
24"

3/4

"
Flat
No
NSF/ANSI 52

Buna-N/Natural Rubber
0000000
0000000
36"
36"

3/4

"
Flat
No
NSF/ANSI 52

Buna-N/Natural Rubber
0000000
000000
36"
48"

3/4

"
Flat
No
NSF/ANSI 52

Buna-N/Natural Rubber
0000000
000000
36"
72"

3/4

"
Flat
No
NSF/ANSI 52

Buna-N/Natural Rubber
0000000
000000