Wear-Resistant

Antifatigue Mats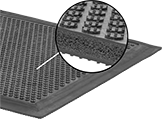 F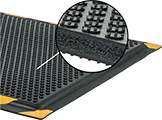 G
Durable and cushioned, these mats combine the comfort of an antifatigue sponge mat with wear-resistant construction. Also known as ergonomic mats, they reduce the fatigue and strain of standing while working.
Mats with a rubber surface are more durable and abrasion resistant than vinyl.
Styles A-G have a slip-resistant surface for good traction. Styles C, D, and G have borders on the edges to provide visibility and indicate designated walking areas.
For technical drawings and 3-D models, click on a part number.