Antifatigue Mats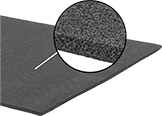 F
Also known as ergonomic mats, these general purpose mats provide cushion to reduce the fatigue and strain of standing while working.
Rubber mats are more durable and abrasion resistant than vinyl.
Styles A-G have a slip-resistant surface for good traction.
For technical drawings and 3-D models, click on a part number.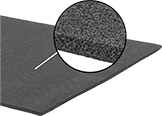 F
Wd.

Lg.

Thick.

Mat
Hardness
Edge
Profile
For Use
Outdoors
Color
Each
24"
48"

3/8

"
Soft
Flat
No
Black
00000000
000000
24"
72"

3/8

"
Soft
Flat
No
Black
00000000
000000
24"
96"

3/8

"
Soft
Flat
No
Black
00000000
000000
24"
10ft.

3/8

"
Soft
Flat
No
Black
00000000
000000
24"
12ft.

3/8

"
Soft
Flat
No
Black
00000000
000000
24"
20ft.

3/8

"
Soft
Flat
No
Black
00000000
000000
36"
48"

3/8

"
Soft
Flat
No
Black
00000000
000000
36"
72"

3/8

"
Soft
Flat
No
Black
00000000
000000
36"
96"

3/8

"
Soft
Flat
No
Black
00000000
000000
36"
10ft.

3/8

"
Soft
Flat
No
Black
00000000
000000
36"
12ft.

3/8

"
Soft
Flat
No
Black
00000000
000000
36"
20ft.

3/8

"
Soft
Flat
No
Black
00000000
000000
48"
48"

3/8

"
Soft
Flat
No
Black
00000000
000000
48"
72"

3/8

"
Soft
Flat
No
Black
00000000
000000
48"
96"

3/8

"
Soft
Flat
No
Black
00000000
000000
48"
10ft.

3/8

"
Soft
Flat
No
Black
00000000
000000
48"
12ft.

3/8

"
Soft
Flat
No
Black
00000000
000000
48"
20ft.

3/8

"
Soft
Flat
No
Black
00000000
000000