Wear-,

Impact-,

and

Chemical-Resistant

PTFE Sheets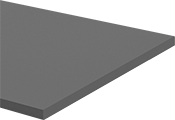 Color:

See table
Temperature

Range:

-400° to 550° F

Tensile

Strength:

2,000-3,

100 psi

(Poor)

Impact

Strength:

6

ft.

-

lbs./in.

(Excellent)

Hardness:

Not Rated

(Medium)

For Use

Outdoors:

No
These sheets are manufactured from Rulon PTFE, a PTFE material that's been modified with an epoxy-coated fiber. In addition to having the superior chemical and temperature resistance of PTFE, they have excellent impact resistance and a super-slippery surface that resists wear. These easy-to-machine sheets are nonabsorbent, so they won't swell when exposed to water. They're also good electrical insulators.
Grade 142 is bronze filled and often used to fabricate linear slides and piston rings.
Grade J is the most slippery of the Rulon materials and is often used to make gaskets and wear strips.
Grade LR is often used for sleeve, flange, and linear bearings.
For technical drawings and 3-D models, click on a part number.
Thick.

Thick.

Tolerance
Color
Each

1/32

"
-0.002" to 0.002"
Blue
0000000
000000

1/16

"
-0.003" to 0.003"
Blue
0000000
00000

1/8

"
-0.005" to 0.005"
Blue
0000000
000000

1/32

"
-0.002" to 0.002"
Gold
0000000
00000

1/16

"
-0.003" to 0.003"
Gold
0000000
00000

1/8

"
-0.005" to 0.005"
Gold
0000000
000000

Grade LR

1/32

"
-0.002" to 0.002"
Maroon
0000000
00000

1/16

"
-0.003" to 0.003"
Maroon
0000000
00000

1/8

"
-0.005" to 0.005"
Maroon
0000000
000000