Choosing an Electrical Switch
Choosing a Proximity Switch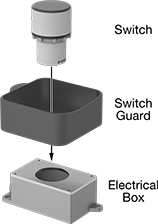 It takes two hands to activate these switches, minimizing the risk of accidental equipment start up. A complete system requires two switches, one safety relay, and two outlet boxes.
Switches meet OSHA requirements and ANSI standards for machine operator safety. They're rated IP64 for protection from splashing water.
Safety relays control the two switches by sending an output signal when both switches are activated within 0.5 seconds of each other. Self-monitoring circuitry offers additional protection—if any part of the system fails, the entire system shuts down until repaired.
Outlet boxes have a drilled hole to fit the switch.
Switch guards protect switches against damage and accidental activation. Use one guard per switch.
For technical drawings and 3-D models, click on a part number.
Light Beam Safety Barrier Switches
Immediately cut power to machinery by breaking the light beam between the two barriers. Light beams can travel up to 32 feet between the transmitter and receiver. For a complete system, combine a transmitter, receiver, safety relay, and connectors (sold separately). Switches will automatically produce PNP or NPN signal output based on the device they are connected to. To selectively allow material to pass through the sensing field, you can program the system to allow one or more beams to be broken without shutting off your machine.
Note: These switches cannot be used with a full-revolution clutch press or machine. Use only with machinery that can consistently and immediately stop anywhere in its cycle.
Use safety relays when connecting these barrier switches to emergency stop switches.
For technical drawings and 3-D models, click on a part number.

Input
Voltage

No.

of
Circuits
Controlled
Switching
Current @
Voltage
Industry
Designation
Wire
Connection
Type

Ht.

Wd.

Dp.

Features
For DIN
Rail

Ht.,


mm
Each
24V DC
2
2 A @ 240 V AC, 1.5 A @ 24 V DC
DPST-NO
Terminal Block
4.9"
0.69"
4.3"
Auxiliary PNP Output
35
0000000
0000000
24V DC
4
2 A @ 240 V AC, 1.5 A @ 24 V DC
4PST-NO
Terminal Block
4.9"
0.89"
4.3"
Auxiliary PNP Output
35
0000000
000000
Machine-Guard

Safety Screw Terminal Relays
The interlocked opposing contacts won't close at the same time, so these relays are suitable for safety applications such as machine guarding. The screw terminals are recessed to prevent accidental contact with live connections. Relays are built to International Electrotechnical Commission (IEC) dimensional standards.
Auxiliary contact (sold separately) allows you to add a signaling device or control another relay.

Number of
Terminals
Input
Voltage
Control


Current,

mA
Switching Current
@ 600V AC

Ht.

Wd.

Dp.

For
DIN Rail


Size,

mm
Specifications
Met
Each

4 Circuits

Controlled with 2 Off

(Normally Open)

and 2 On

(Normally Closed)—

4PST-2NO/2NC

10
24V AC
125
10A
2.3"
1.7"
2.2"
35
UL Listed, C-UL Listed

00000000
000000
10
120V AC
25
10A
2.3"
1.7"
2.2"
35
UL Listed, C-UL Listed

00000000
00000
10
240V AC
12.5
10A
2.3"
1.7"
2.2"
35
UL Listed, C-UL Listed

00000000
00000

4 Circuits

Controlled with 3 Off

(Normally Open)

and 1 On

(Normally Closed)—

4PST-3NO/1NC

10
24V AC
125
10A
2.3"
1.7"
2.2"
35
UL Listed, C-UL Listed

00000000
00000
10
120V AC
25
10A
2.3"
1.7"
2.2"
35
UL Listed, C-UL Listed

00000000
00000
10
240V AC
12.5
10A
2.3"
1.7"
2.2"
35
UL Listed, C-UL Listed

00000000
00000
Number of
Circuits Controlled
Switch Starting Position
Industry
Designation
Mounting
Location
Each
2
1 Off (Normally Open) and 1 On (Normally Closed)
DPST-1NO/1NC
Front
00000000
000000