Bench Grinder Safety Gauges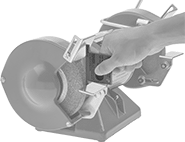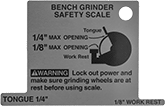 Also known as safety scales, these gauges confirm that the gaps between the grinding wheel and the tool rest and tongue comply with OSHA and ANSI requirements.
Lg.

Wd.

Measuring
Sizes
Material
Color
Specifications Met
Each
3

1/8

"
2"

1/8

",

1/4

"
Aluminum
Orange
OSHA Compliant 29 CFR 1910.215, ANSI B7.1, ANSI B11.9
000000
000000
Machine Guard Safety Gauges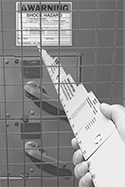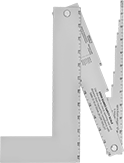 Verify machine guard openings are sized to prevent hands and fingers from reaching hazards. These gauges check whether a machine guard complies with OSHA, CSA, or ANSI requirements. The gauge should not be able to touch equipment through any gap for the machine guard to meet requirements.