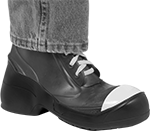 Slip On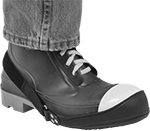 With
Hook-and-loop
Heel Strap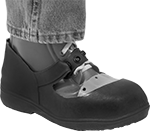 With Foot Strap and Snaps
Wear these guards over shoes or boots to shield toes and feet from accidental impact.
Plastic guards are lightweight for protection against minor bumps and impacts up to 30 ft.-lbs. Steel and aluminum guards meet ASTM F2413 for protection against accidental impact and compression up to 75 ft.-lbs.
Order your normal shoe size. For large work shoes, order one size up. Guards with a foot strap and snaps are designed to fit over large work shoes or boots, so order your normal shoe size.
Shoe and Boot Protective Epoxy Coatings

Extend the life of your footwear with these abrasion- and water-resistant epoxies. Stronger and more durable than most footwear materials, these epoxies are often used to coat and repair high-wear areas prone to rips, cracks, and water exposure, such as safety toes. They permanently bond to leather, plastic, and rubber. Each cartridge includes enough epoxy to coat the toes on one pair of shoes or boots. They fully harden in 24 hours and dry with a gloss finish, which can be rubbed away for a matte finish.
Welding Leggings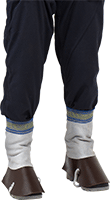 A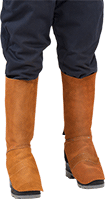 B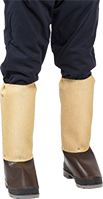 C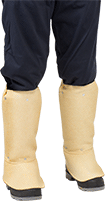 D
These abrasion-, tear-, and cut-resistant leggings protect your lower legs and feet against radiant heat, flames, and welding sparks.
Style A are also known as spats. Made of leather, these leggings conform to your foot and ankle for lightweight protection. They have an elastic band that hugs the lower calf. Adjustable foot straps keep foot covers in place.
Style B are knee-high leather; they conform to your legs better than Kevlar guards without weighing you down. They have a foot strap to help keep covers in place.
Styles C and D have a spring-tension frame, which supports leggings so they keep their shape and won't slide off. They are knee-high Kevlar for better cut-resistance than leather. Style C have leather foot covers.
Style
Material
Height
Closure
Type
Features
Color
Size
Pair
A
Leather
10"
Snaps
Adjustable Foot Strap
Gray/Brown
One Size
000000
000000
B
Leather
14"
Hook and Loop
Foot Strap
Brown
One Size
0000000
00000
C
Kevlar Aramid Fabric and Leather
14"
Spring-Tension Frame
__
Beige
One Size
000000
000000
D
Kevlar Aramid Fabric
14"
Spring-Tension Frame
__
Beige
One Size
000000
000000