Battery-Powered

Plastic Pipe and Tube Bevelers
Lightweight and portable, these battery-powered bevelers cut faster than manual ones. Use them to quickly and safely create smooth beveled edges on plastic pipe and tubing so that cement distributes evenly for a leak-tight connection. An adjustable guide plate helps you cut an accurate, even edge all the way around the pipe. The OD guard protects you from the router bit and flying plastic shavings.
Cordless Oscillating Tools
Cut, scrape, and grind in tight spaces. This tool has an oscillating blade that makes flush and plunge cuts without damaging the surrounding material. It accepts accessories from most brands of oscillating tools and has a quick-change blade holder, so you don't need tools to change blades. A built-in LED light illuminates your work surface.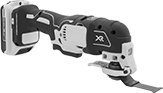 Manufacturer
Manufacturer
Model

No.

Voltage

No-Load

Speed,




oscillations/min.

Lg.

Wt.,




lbs.

Batteries
Included
Includes
Each
DeWalt
DCS356B
20V DC
0-20,000
11.2"
2.33
No
Adapter for Use With Oscillating Tool Accessories; One Blade for Cutting Wood; One Blade for Cutting Wood with Nails
0000000
0000000
DeWalt
DCS356D1
20V DC
0-20,000
11.2"
2.33
Yes
25 Sanding Sheets; Adapter for Use With Oscillating Tool Accessories; Charger; Cloth Case; One Blade for Cutting Wood; One Blade for Cutting Wood with Nails; Sanding Pad
000000
000000