Belt Sanders for Lathes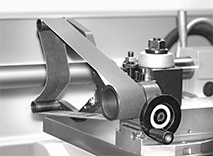 Keep hands safely out of the way while deburring, sanding, and polishing workpieces on a lathe. Mount sanders to your lathe tool post, then adjust the arms to position the sanding belt (not included) against the workpiece. Rotate the sanding belt with the hand wheel to ensure that the abrasive wears evenly.
Belt Sanding Sticks
Access tight spots. These sticks are spring-loaded to hold a small sanding belt taut, but you can easily rotate the belt when it becomes worn.

Wd.

Lg.

Abrasive Material
Abrasive
Backing Material
For Use On
Choose a Grit

Pkg.




Qty.

Pkg.

For Rough Finish

1/4

"
12"
Aluminum Oxide
Cloth
Steel, Wood
80
10
000000000
000000

1/2

"
16"
Aluminum Oxide
Cloth
Steel, Wood
80
10
000000000
00000

3/4

"
20"
Aluminum Oxide
Cloth
Steel, Wood
80
10
000000000
00000

For Smooth Finish

1/4

"
12"
Aluminum Oxide
Cloth
Steel, Wood
10
000000000
00000

1/2

"
16"
Aluminum Oxide
Cloth
Steel, Wood
10
000000000
00000

3/4

"
20"
Aluminum Oxide
Cloth
Steel, Wood
10
000000000
00000

For Extra Smooth Finish

1/4

"
12"
Aluminum Oxide
Cloth
Steel, Wood
10
000000000
00000

1/2

"
16"
Aluminum Oxide
Cloth
Steel, Wood
10
000000000
00000

3/4

"
20"
Aluminum Oxide
Cloth
Steel, Wood
10
000000000
00000

For Polished Finish

1/4

"
12"
Aluminum Oxide
Cloth
Steel, Wood
500
10
000000000
00000

1/2

"
16"
Aluminum Oxide
Cloth
Steel, Wood
600
10
000000000
00000

3/4

"
20"
Aluminum Oxide
Cloth
Steel, Wood
600
10
000000000
00000