Sanitary Rotary Motion
Position-Measuring

Transmitters
Also known as encoders, these sanitary transmitters convey motion to an electrical signal that conveys distance, direction, and speed. They're often used in control systems to automate servomotors, robotics, and assembly machines in sanitary environments such as food and pharmaceutical plants. Made of corrosion-resistant stainless steel, they won't rust from frequent washdowns with harsh cleaners. These transmitters are sealed and have a highly polished surface, leaving no room for bacteria to grow and making them easier to clean. They're rated IP67 for protection from dust, high-pressure jets of water, and submersion in up to a meter of water for 30 minutes.
To achieve a 4X resolution increase, use these transmitters with a controller that has quadrature detection.
Transmitters with three mounting holes are designed to fit on a three-hole servomotor face.
Connect transmitters to counters and controllers with cables (sold separately).
Use a flexible shaft coupling to connect the transmitter shaft to a drive shaft.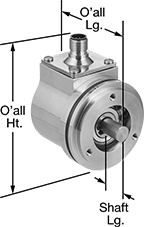 Shaft
For
Counter
Function
Output
Channels
Resolution
Resolution
Increase
For

Max.


Shaft


Speed,

rpm
Input
Voltage

Lg.

Ht.

Dia.

Lg.

Mounting
Plate


Dia.

No.


of

Ctr.-to-Ctr.

Thread
Size
Specifications
Met
Each

316 Stainless Steel Body and 303 Stainless Steel Shaft

Quadrature with Index Output

Channel—

20mA Output Current

Up and Down
A, B, Z
600
2X, 4X
8,000
4.75-28V DC
2.44"
3.13"
0.4"
0.4"
2.29"
3
1.43"
M4 × 5 mm
CE Marked

00000000
0000000
Up and Down
A, B, Z
3,600
2X, 4X
8,000
4.75-28V DC
2.44"
3.13"
0.4"
0.4"
2.29"
3
1.43"
M4 × 5 mm
CE Marked

00000000
00000000
D-Profile Shaft-Mount Transmitters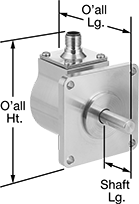 For
Counter
Function
Output
Channels
Resolution
Resolution
Increase
For

Max.


Shaft


Speed,

rpm
Input
Voltage

Lg.

Ht.

Dia.

Lg.

Lg.

Wd.

No.


of

Ctr.-to-Ctr.

Dia.

Specifications
Met
Each

316 Stainless Steel Body and 303 Stainless Steel Shaft

Quadrature with Index Output

Channel—

20mA Output Current

Up and Down
A, B, Z
600
2X, 4X
8,000
4.75-28V DC
3.175"
3

1/4

"

3/8

"
1

1/16

"
2

1/2

"
2

1/2

"
4
2.06"

7/32

"
CE Marked

00000000
000000000
Up and Down
A, B, Z
3,600
2X, 4X
8,000
4.75-28V DC
3.175"
3

1/4

"

3/8

"
1

1/16

"
2

1/2

"
2

1/2

"
4
2.06"

7/32

"
CE Marked

00000000
00000000