Sanitary Metal Filter Housings
Along with a cartridge, these housings are used in liquid processing lines to filter contaminants and minimize bacteria growth in food and pharmaceutical plants, as well as other sanitary environments. Made of 316 stainless steel, they won't corrode from frequent washdowns with harsh cleaners. With a self-draining design, rounded edges, and highly polished surfaces, they leave no space for liquids to linger or bacteria to grow. These housings connect to process lines with sanitary quick-clamp fittings that allow for fast disassembly and cleaning. An EPDM rubber gasket maintains a tight seal and resists water, detergents, chemicals, and steam. The gasket is FDA compliant for direct contact with food. Housings are 3-A certified for sanitary design standards and comply with FDA pharmaceutical equipment design standards.
Cartridges (sold separately) are pleated, creating a large surface area for trapping debris. They have one open end with an EPDM rubber O-ring and locking tabs—the O-ring creates a tight seal to ensure that liquids pass through the cartridge for filtration, while the locking tabs help align with cartridges for a secure fit. Cartridges are FDA compliant for direct contact with food.
Cartridges with a polypropylene filter are often used as pre-filters in liquid processing lines, capturing larger particles to prevent clogging.
Cartridges with a PES filter remove extremely small particles, so they're commonly used as final filters in high-purity applications. They're also known as absolute-rated cartridges.
Quick-Clamp Tube Vent—316L Stainless Steel Housing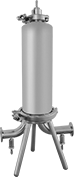 Filter Housing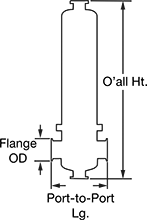 For
Tube
OD
Flange
OD

Ht.

ID
End
Type

No.

of
Cartridges
Required

Max.

Flow


Rate,


gpm

Max.




Pressure,


psi

Max.




Temp.,




°F

Port-to-Port


Length
Overall
Height
Specifications
Met
Each
1"
1.984"
12.4"
2.2"
O-Ring End Caps
1
7
150
300
9

13/16

"
22

1/4

"
3-A Certified 10-04, FDA Compliant 21 CFR 177.2600, FDA Compliant 21 CFR 211.65
0000000
000000000
1"
1.984"
21.9"
2.2"
O-Ring End Caps
1
15
150
300
9

13/16

"
32

1/4

"
3-A Certified 10-04, FDA Compliant 21 CFR 177.2600, FDA Compliant 21 CFR 211.65
0000000
00000000

Cartridge
Removes Particle Size
Down

To,

microns

Height

80%


Efficiency

90%


Efficiency

98%


Efficiency

99.9%


Efficiency

Max.




Pressure,

psi

Max.




Temp.,

°F

Specifications Met
Each

Polypropylene Plastic

12.4"
__
__
0.5
__
80
180
FDA Compliant 21 CFR 177.1520, FDA Compliant 21 CFR 177.2600
0000000
000000
12.4"
__
0.5
1
__
80
180
FDA Compliant 21 CFR 177.1520, FDA Compliant 21 CFR 177.2600
0000000
00000
12.4"
1
2
3
__
80
180
FDA Compliant 21 CFR 177.1520, FDA Compliant 21 CFR 177.2600
0000000
00000
12.4"
2
3
5
__
80
180
FDA Compliant 21 CFR 177.1520, FDA Compliant 21 CFR 177.2600
0000000
00000
12.4"
3
5
10
__
80
180
FDA Compliant 21 CFR 177.1520, FDA Compliant 21 CFR 177.2600
0000000
00000
12.4"
10
20
30
__
80
180
FDA Compliant 21 CFR 177.1520, FDA Compliant 21 CFR 177.2600
0000000
00000
21.9"
__
__
0.5
__
80
180
FDA Compliant 21 CFR 177.1520, FDA Compliant 21 CFR 177.2600
0000000
000000
21.9"
__
0.5
1
__
80
180
FDA Compliant 21 CFR 177.1520, FDA Compliant 21 CFR 177.2600
0000000
000000
21.9"
1
2
3
__
80
180
FDA Compliant 21 CFR 177.1520, FDA Compliant 21 CFR 177.2600
0000000
000000
21.9"
2
3
5
__
80
180
FDA Compliant 21 CFR 177.1520, FDA Compliant 21 CFR 177.2600
0000000
000000
21.9"
3
5
10
__
80
180
FDA Compliant 21 CFR 177.1520, FDA Compliant 21 CFR 177.2600
0000000
000000
21.9"
10
20
30
__
80
180
FDA Compliant 21 CFR 177.1520, FDA Compliant 21 CFR 177.2600
0000000
000000

PES Plastic

12.4"
__
__
__
0.2
80
180
FDA Compliant 21 CFR 177.1520, FDA Compliant 21 CFR 177.2240, FDA Compliant 21 CFR 177.2600
0000000
000000
21.9"
__
__
__
0.2
80
180
FDA Compliant 21 CFR 177.1520, FDA Compliant 21 CFR 177.2240, FDA Compliant 21 CFR 177.2600
0000000
000000