About Selecting Temperature Sensors
Sanitary RTD Probes
Designed for clean-in-place applications such as dairy processing and food-preparation areas, these 3-A certified RTDs have a sanitary quick-clamp connection for easy removal.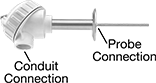 RTD
Type
Temperature


Range,




°F

Lg.

Dia.

Flange
OD
Accuracy
Response


Time,




sec.

Connection
Type
Pipe
Size
Thread
Type
Gender
Overall


Lg.

Each

316 Stainless Steel Probe with Plastic Head

100 ohms
-325° to 400°
4"

1/4

"
1.984"
±0.1%
5
Screw Terminal

3/4

NPT

Female
11"
0000000
0000000
100 ohms
-325° to 400°
4"

1/4

"
2.516"
±0.1%
5
Screw Terminal

3/4

NPT

Female
11"
0000000
000000
Sanitary RTD Probe Transmitters with Digital Display
Check the temperature of liquids in hygienic applications such as food or pharmaceutical lines and tanks. Certified by 3-A to meet sanitary design standards, the parts of these probes that will touch liquid are highly polished to minimize spots where bacteria could grow. They're rated IP67 and IP69K, so they'll withstand temporary submersion as well as the high-pressure, high-temperature washdowns that are common in hygienic cleaning practices. Made of stainless steel, harsh cleaners and sanitizers won't cause them to corrode. They have a flange that will connect to sanitary quick-clamp fittings (also known as tri-clamp fittings); they're easy to connect and remove from your line.
Program these probes with the touch screen, and select one of three colors as a visual alert for events in your process such as irregular or fluctuating temperatures. The head swivels 345° and the face rotates all the way around, so you can mount the sensor at any angle and still see the display. To trigger actions in your process line, connect these probes to remote displays, programmable logic controllers (PLCs), and other control equipment with the M12 plug. These probes meet DIN EN 60751, an industry standard for accuracy. They're also CE marked, meaning they meet European Union safety standards.
For technical drawings and 3-D models, click on a part number.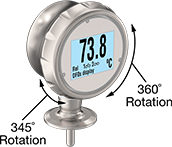 RTD
Type
Temperature


Range,




°F

Lg.

Dia.

Flange
OD
Accuracy
Response


Time,




sec.

Plug
Type
DC
Voltage

Max.




Pressure,


psi
Output
Current
Overall


Lg.

Each
Each

316L Stainless Steel Probe with 304 Stainless Steel Head

(IP67, IP69K)

100 ohms
-55° to 480°
1"

5/16

"
1.988"
±0.1%
25
5-Pole Micro M12
8-35
580
4-20mA
5

3/4

"
0000000
0000000
0000000
000000
100 ohms
-55° to 480°
2"

5/16

"
1.988"
±0.1%
25
5-Pole Micro M12
8-35
580
4-20mA
6

3/4

"
0000000
000000
0000000
00000