Weather-

and

Chemical-Resistant

Santoprene Rubber Rods

Color:

Black
Temperature

Range:

-75° to 250° F

Tensile

Strength:

750 psi

For Use

Outdoors:

Yes
Seal channels and other narrow spaces with these Santoprene rods. Santoprene, also known as thermoplastic and TPE, is a blend of rubber for stretchability and plastic for durability. It offers good resistance to sunlight, ozone, water, ethylene glycol, and detergent solutions.
For technical drawings and 3-D models, click on a part number.
Light Duty
Weather-Resistant

Santoprene Foam Cords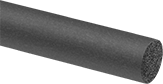 Color:

Black
Temperature

Range:

-50° to 275° F

Cell

Type:

Closed

For Use

Outdoors:

Yes

Density:

15

lbs./cu.

ft.

Pressure to Compress

25%:

4 psi

(Ultra

Soft)

Tensile Strength

Rating:

Excellent

Oil-

Resistance

Rating:

Not Rated
An economical alternative to neoprene foam, these Santoprene foam cords stand up to water, sunlight, and oxidation but lack oil resistance. Use them to seal and cushion narrow spaces, such as channels. This foam has closed-cell construction, which restricts water, air, and gases from being absorbed. Cords have an ultra-smooth texture for a sleek surface that's easy to wipe down.