Cable Saws for PVC Pipe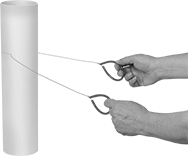 Melt through irrigation, plumbing, and electrical grade PVC pipe with heat friction. The cutting cable is flexible stainless steel without teeth. Use this saw in hard-to-reach areas.
Overall
Cable
For Pipe


Dia.

Material
Handle
Material
Flexibility
Each
32"
24"
Up to 8"
Stainless Steel
Rubber
Flexible
00000000
00000
Multipurpose Oscillating Tool Blades

A

B

C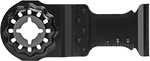 D

E

F

G
These blades fit most brands of oscillating tools, including Bosch, Fein, Makita, Milwaukee, Ridgid, Rockwell, and Skil.
Lg.

Wd.

Dia.

Tooth
Body
Cut
Type
For
Use
On
Each
A
4"
1

1/4

"
__
High-Speed Steel
Carbon Steel
Plunge
Wood, Wood with Nails, Metal, Drywall, PVC
0000000
000000
B
4"

3/8

"
__
High-Speed Steel
Carbon Steel
Plunge
Wood, Wood with Nails, Metal, Drywall, PVC
0000000
00000
C
4"

3/4

"
__
High-Speed Steel
Carbon Steel
Plunge
Wood, Wood with Nails, Metal, Drywall, PVC
0000000
00000
D
4"
1

1/4

"
__
Carbide-Tipped Steel
Carbon Steel
Plunge
Wood, Wood with Nails, Metal, Drywall, PVC
0000000
00000
D
4"
1

3/4

"
__
Carbide-Tipped Steel
Carbon Steel
Plunge
Wood, Wood with Nails, Metal, Drywall, PVC
0000000
00000
E
4"
2

1/2

"
__
High-Speed Steel
Carbon Steel
Plunge
Wood, Wood with Nails, Metal, Drywall, PVC
0000000
00000
F
3

3/4

"
2

1/8

"
__
High-Speed Steel
Carbon Steel
Plunge
Wood, Wood with Nails, Metal, Drywall, PVC
0000000
00000
G
__
__
3

1/2

"
High-Speed Steel
Carbon Steel
Flush, Straight
Wood, Wood with Nails, Metal, Drywall, PVC
0000000
00000
G
__
__
4"
High-Speed Steel
Carbon Steel
Flush, Straight
Wood, Wood with Nails, Metal, Drywall, PVC
0000000
00000