Light Duty Blended EPDM Foam Sheets and Strips
EPDM is blended with neoprene and SBR to create a general-purpose foam that offers good resistance to water and wear. This foam has closed-cell construction, which restricts water, air, and gases from being absorbed.
For technical drawings and 3-D models, click on a part number.
Sheets with Smooth Texture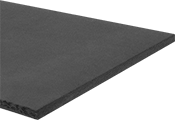 Color:

Black
Temperature

Range:

-40° to 200° F

Cell

Type:

Closed

For Use

Outdoors:

Yes

Density:

Ultra Soft and Extra

Soft:

6

lbs./cu.

ft.;

Soft:

9

lbs./cu.

ft.

Pressure to Compress

25%:

Ultra

Soft:

4

psi;

Extra

Soft:

7

psi;

Soft:

11 psi
Tensile Strength

Rating:

Good

Oil-

Resistance

Rating:

Not Rated
Thick.

Thick.

Tolerance
Specifications Met

Lengths,




ft.

Per

Ft.

Ultra Soft

1/16

"
-0.015" to 0.015"
ASTM D1056 2A1, MIL-C-3133, MIL-STD-670, UL 94 HF-1
00000000
00000

1/8

"
-0.020" to 0.020"
ASTM D1056 2A1, MIL-C-3133, MIL-STD-670, UL 94 HF-1
0000000
0000

3/16

"
-0.026" to 0.026"
ASTM D1056 2A1, MIL-C-3133, MIL-STD-670, UL 94 HF-1
0000000
0000

1/4

"
-0.025" to 0.025"
ASTM D1056 2A1, MIL-C-3133, MIL-STD-670, UL 94 HF-1
0000000
00000

3/8

"
-0.035" to 0.035"
ASTM D1056 2A1, MIL-C-3133, MIL-STD-670, UL 94 HF-1
0000000
00000

1/2

"
-0.040" to 0.040"
ASTM D1056 2A1, MIL-C-3133, MIL-STD-670, UL 94 HF-1
0000000
00000

3/4

"
-0.065" to 0.065"
ASTM D1056 2A1, MIL-C-3133, MIL-STD-670, UL 94 HF-1
0000000
00000
1"
-0.082" to 0.082"
ASTM D1056 2A1, MIL-C-3133, MIL-STD-670, UL 94 HF-1
0000000
00000
1

1/4

"
-0.095" to 0.095"
ASTM D1056 2A1, MIL-C-3133, MIL-STD-670, UL 94 HF-1
00000000
00000
1

1/2

"
-0.150" to 0.150"
ASTM D1056 2A1, MIL-C-3133, MIL-STD-670, UL 94 HF-1
00000000
00000

Extra Soft

1/16

"
-0.015" to 0.015"
ASTM D1056 2A2, MIL-C-3133, MIL-STD-670, UL 94 HF-1
00000000
0000

1/8

"
-0.020" to 0.020"
ASTM D1056 2A2, MIL-C-3133, MIL-STD-670, UL 94 HF-1
0000000
0000

3/16

"
-0.026" to 0.026"
ASTM D1056 2A2, MIL-C-3133, MIL-STD-670, UL 94 HF-1
0000000
0000

1/4

"
-0.025" to 0.025"
ASTM D1056 2A2, MIL-C-3133, MIL-STD-670, UL 94 HF-1
0000000
00000

3/8

"
-0.035" to 0.035"
ASTM D1056 2A2, MIL-C-3133, MIL-STD-670, UL 94 HF-1
0000000
00000

1/2

"
-0.040" to 0.040"
ASTM D1056 2A2, MIL-C-3133, MIL-STD-670, UL 94 HF-1
0000000
00000

3/4

"
-0.065" to 0.065"
ASTM D1056 2A2, MIL-C-3133, MIL-STD-670, UL 94 HF-1
0000000
00000
1"
-0.082" to 0.082"
ASTM D1056 2A2, MIL-C-3133, MIL-STD-670, UL 94 HF-1
0000000
00000
1

1/4

"
-0.095" to 0.095"
ASTM D1056 2A2, MIL-C-3133, MIL-STD-670, UL 94 HF-1
00000000
00000
1

1/2

"
-0.150" to 0.150"
ASTM D1056 2A2, MIL-C-3133, MIL-STD-670, UL 94 HF-1
00000000
00000

Soft

1/16

"
-0.015" to 0.015"
ASTM D1056 2A3, MIL-C-3133, MIL-STD-670, UL 94 HF-1
0000000
0000

1/8

"
-0.020" to 0.020"
ASTM D1056 2A3, MIL-C-3133, MIL-STD-670, UL 94 HF-1
0000000
00000

3/16

"
-0.026" to 0.026"
ASTM D1056 2A3, MIL-C-3133, MIL-STD-670, UL 94 HF-1
0000000
00000

1/4

"
-0.025" to 0.025"
ASTM D1056 2A3, MIL-C-3133, MIL-STD-670, UL 94 HF-1
0000000
00000

3/8

"
-0.035" to 0.035"
ASTM D1056 2A3, MIL-C-3133, MIL-STD-670, UL 94 HF-1
0000000
00000

1/2

"
-0.040" to 0.040"
ASTM D1056 2A3, MIL-C-3133, MIL-STD-670, UL 94 HF-1
0000000
00000

3/4

"
-0.065" to 0.065"
ASTM D1056 2A3, MIL-C-3133, MIL-STD-670, UL 94 HF-1
0000000
00000
1"
-0.082" to 0.082"
ASTM D1056 2A3, MIL-C-3133, MIL-STD-670, UL 94 HF-1
0000000
00000
1

1/4

"
-0.095" to 0.095"
ASTM D1056 2A3, MIL-C-3133, MIL-STD-670, UL 94 HF-1
00000000
00000
1

1/2

"
-0.150" to 0.150"
ASTM D1056 2A3, MIL-C-3133, MIL-STD-670, UL 94 HF-1
00000000
00000
Sheets with Wrinkled Texture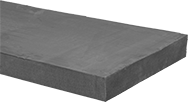 Color:

Black
Temperature

Range:

-40° to 200° F

Cell

Type:

Closed

For Use

Outdoors:

Yes

Density:

Ultra Soft and Extra

Soft:

6

lbs./cu.

ft.;

Soft:

9

lbs./cu.

ft.

Pressure to Compress

25%:

Ultra

Soft:

4

psi;

Extra

Soft:

7

psi;

Soft:

11 psi
Tensile Strength

Rating:

Good

Oil-

Resistance

Rating:

Not Rated
Thick.

Thick.

Tolerance
Specifications Met

Lengths,




ft.

Per

Ft.

Ultra Soft

2"
-0.175" to 0.175"
ASTM D1056 2A1, MIL-C-3133, MIL-STD-670, UL 94 HF-1
00000000
000000

Extra Soft

2"
-0.175" to 0.175"
ASTM D1056 2A2, MIL-C-3133, MIL-STD-670, UL 94 HF-1
00000000
00000

Soft

2"
-0.175" to 0.175"
ASTM D1056 2A3, MIL-C-3133, MIL-STD-670, UL 94 HF-1
00000000
00000
Adhesive-Back Strips with Smooth Texture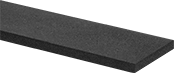 Color:

Black
Temperature

Range:

-40° to 250° F

Cell

Type:

Closed

For Use

Outdoors:

No

Density:

Extra

Soft:

6

lbs./cu.

ft.;

Soft:

9

lbs./cu.

ft.

Pressure to Compress

25%:

Extra

Soft:

7

psi;

Soft:

9 psi
Tensile Strength

Rating:

Not Rated

Oil-

Resistance

Rating:

Not Rated
Thick.

Thick.

Tolerance

Lg.,




ft.

Type
Temperature


Range,

°F

Specifications Met
Each

Extra Soft

1/16

"
-0.031" to 0.031"
50
Rubber
0° to 140°
ASTM D1056 2C2, UL 94 HF-1
00000000
00000

1/8

"
-0.031" to 0.031"
50
Rubber
0° to 140°
ASTM D1056 2C2, UL 94 HF-1
00000000
0000

3/16

"
-0.031" to 0.031"
50
Rubber
0° to 140°
ASTM D1056 2C2, UL 94 HF-1
00000000
0000

1/4

"
-0.031" to 0.031"
50
Rubber
0° to 140°
ASTM D1056 2C2, UL 94 HF-1
00000000
0000

3/8

"
-0.045" to 0.045"
25
Rubber
0° to 140°
ASTM D1056 2C2, UL 94 HF-1
00000000
0000

1/16

"
-0.031" to 0.031"
50
Rubber
0° to 140°
ASTM D1056 2C2, UL 94 HF-1
00000000
0000

1/8

"
-0.031" to 0.031"
50
Rubber
0° to 140°
ASTM D1056 2C2, UL 94 HF-1
00000000
0000

3/16

"
-0.031" to 0.031"
50
Rubber
0° to 140°
ASTM D1056 2C2, UL 94 HF-1
00000000
0000

1/4

"
-0.031" to 0.031"
50
Rubber
0° to 140°
ASTM D1056 2C2, UL 94 HF-1
00000000
0000

3/8

"
-0.045" to 0.045"
25
Rubber
0° to 140°
ASTM D1056 2C2, UL 94 HF-1
00000000
0000

1/2

"
-0.045" to 0.045"
25
Rubber
0° to 140°
ASTM D1056 2C2, UL 94 HF-1
00000000
0000

1/16

"
-0.031" to 0.031"
50
Rubber
0° to 140°
ASTM D1056 2C2, UL 94 HF-1
0000000
0000

1/8

"
-0.031" to 0.031"
50
Rubber
0° to 140°
ASTM D1056 2C2, UL 94 HF-1
0000000
0000

3/16

"
-0.031" to 0.031"
50
Rubber
0° to 140°
ASTM D1056 2C2, UL 94 HF-1
0000000
0000

1/4

"
-0.031" to 0.031"
50
Rubber
0° to 140°
ASTM D1056 2C2, UL 94 HF-1
0000000
00000

3/8

"
-0.045" to 0.045"
25
Rubber
0° to 140°
ASTM D1056 2C2, UL 94 HF-1
0000000
0000

1/2

"
-0.045" to 0.045"
25
Rubber
0° to 140°
ASTM D1056 2C2, UL 94 HF-1
0000000
00000

1/16

"
-0.031" to 0.031"
50
Rubber
0° to 140°
ASTM D1056 2C2, UL 94 HF-1
00000000
0000

1/8

"
-0.031" to 0.031"
50
Rubber
0° to 140°
ASTM D1056 2C2, UL 94 HF-1
00000000
0000

3/16

"
-0.031" to 0.031"
50
Rubber
0° to 140°
ASTM D1056 2C2, UL 94 HF-1
00000000
0000

1/4

"
-0.031" to 0.031"
50
Rubber
0° to 140°
ASTM D1056 2C2, UL 94 HF-1
00000000
00000

3/8

"
-0.045" to 0.045"
25
Rubber
0° to 140°
ASTM D1056 2C2, UL 94 HF-1
00000000
0000

1/2

"
-0.045" to 0.045"
25
Rubber
0° to 140°
ASTM D1056 2C2, UL 94 HF-1
00000000
00000

1/16

"
-0.031" to 0.031"
50
Rubber
0° to 140°
ASTM D1056 2C2, UL 94 HF-1
0000000
0000

1/8

"
-0.031" to 0.031"
50
Rubber
0° to 140°
ASTM D1056 2C2, UL 94 HF-1
0000000
0000

3/16

"
-0.031" to 0.031"
50
Rubber
0° to 140°
ASTM D1056 2C2, UL 94 HF-1
0000000
00000

1/4

"
-0.031" to 0.031"
50
Rubber
0° to 140°
ASTM D1056 2C2, UL 94 HF-1
0000000
00000

3/8

"
-0.045" to 0.045"
25
Rubber
0° to 140°
ASTM D1056 2C2, UL 94 HF-1
0000000
00000

1/2

"
-0.045" to 0.045"
25
Rubber
0° to 140°
ASTM D1056 2C2, UL 94 HF-1
0000000
00000

3/4

"
-0.063" to 0.063"
25
Rubber
0° to 140°
ASTM D1056 2C2, UL 94 HF-1
0000000
00000
1"
-0.094" to 0.094"
25
Rubber
0° to 140°
ASTM D1056 2C2, UL 94 HF-1
0000000
00000

1/16

"
-0.031" to 0.031"
50
Rubber
0° to 140°
ASTM D1056 2C2, UL 94 HF-1
0000000
00000

1/8

"
-0.031" to 0.031"
50
Rubber
0° to 140°
ASTM D1056 2C2, UL 94 HF-1
0000000
00000

3/16

"
-0.031" to 0.031"
50
Rubber
0° to 140°
ASTM D1056 2C2, UL 94 HF-1
0000000
00000

1/4

"
-0.031" to 0.031"
50
Rubber
0° to 140°
ASTM D1056 2C2, UL 94 HF-1
0000000
00000

3/8

"
-0.045" to 0.045"
25
Rubber
0° to 140°
ASTM D1056 2C2, UL 94 HF-1
0000000
00000

1/2

"
-0.045" to 0.045"
25
Rubber
0° to 140°
ASTM D1056 2C2, UL 94 HF-1
0000000
00000

3/4

"
-0.063" to 0.063"
25
Rubber
0° to 140°
ASTM D1056 2C2, UL 94 HF-1
0000000
00000
1"
-0.094" to 0.094"
25
Rubber
0° to 140°
ASTM D1056 2C2, UL 94 HF-1
0000000
00000

1/16

"
-0.031" to 0.031"
50
Rubber
0° to 140°
ASTM D1056 2C2, UL 94 HF-1
00000000
00000

1/8

"
-0.031" to 0.031"
50
Rubber
0° to 140°
ASTM D1056 2C2, UL 94 HF-1
00000000
00000

3/16

"
-0.031" to 0.031"
50
Rubber
0° to 140°
ASTM D1056 2C2, UL 94 HF-1
00000000
00000

1/4

"
-0.031" to 0.031"
50
Rubber
0° to 140°
ASTM D1056 2C2, UL 94 HF-1
00000000
00000

3/8

"
-0.045" to 0.045"
25
Rubber
0° to 140°
ASTM D1056 2C2, UL 94 HF-1
00000000
00000

1/2

"
-0.045" to 0.045"
25
Rubber
0° to 140°
ASTM D1056 2C2, UL 94 HF-1
00000000
00000

3/4

"
-0.063" to 0.063"
25
Rubber
0° to 140°
ASTM D1056 2C2, UL 94 HF-1
00000000
00000
1"
-0.094" to 0.094"
25
Rubber
0° to 140°
ASTM D1056 2C2, UL 94 HF-1
00000000
00000

1/16

"
-0.031" to 0.031"
50
Rubber
0° to 140°
ASTM D1056 2C2, UL 94 HF-1
0000000
00000

1/8

"
-0.031" to 0.031"
50
Rubber
0° to 140°
ASTM D1056 2C2, UL 94 HF-1
0000000
00000

3/16

"
-0.031" to 0.031"
50
Rubber
0° to 140°
ASTM D1056 2C2, UL 94 HF-1
0000000
00000

1/4

"
-0.031" to 0.031"
50
Rubber
0° to 140°
ASTM D1056 2C2, UL 94 HF-1
0000000
00000

3/8

"
-0.045" to 0.045"
25
Rubber
0° to 140°
ASTM D1056 2C2, UL 94 HF-1
0000000
00000

1/2

"
-0.045" to 0.045"
25
Rubber
0° to 140°
ASTM D1056 2C2, UL 94 HF-1
0000000
00000

3/4

"
-0.063" to 0.063"
25
Rubber
0° to 140°
ASTM D1056 2C2, UL 94 HF-1
0000000
00000
1"
-0.094" to 0.094"
25
Rubber
0° to 140°
ASTM D1056 2C2, UL 94 HF-1
0000000
00000

1/16

"
-0.031" to 0.031"
50
Rubber
0° to 140°
ASTM D1056 2C2, UL 94 HF-1
0000000
00000

1/8

"
-0.031" to 0.031"
50
Rubber
0° to 140°
ASTM D1056 2C2, UL 94 HF-1
0000000
00000

3/16

"
-0.031" to 0.031"
50
Rubber
0° to 140°
ASTM D1056 2C2, UL 94 HF-1
0000000
00000

1/4

"
-0.031" to 0.031"
50
Rubber
0° to 140°
ASTM D1056 2C2, UL 94 HF-1
0000000
00000

3/8

"
-0.045" to 0.045"
25
Rubber
0° to 140°
ASTM D1056 2C2, UL 94 HF-1
0000000
00000

1/2

"
-0.045" to 0.045"
25
Rubber
0° to 140°
ASTM D1056 2C2, UL 94 HF-1
0000000
00000

3/4

"
-0.063" to 0.063"
25
Rubber
0° to 140°
ASTM D1056 2C2, UL 94 HF-1
0000000
00000
1"
-0.094" to 0.094"
25
Rubber
0° to 140°
ASTM D1056 2C2, UL 94 HF-1
0000000
00000

1/16

"
-0.031" to 0.031"
50
Rubber
0° to 140°
ASTM D1056 2C2, UL 94 HF-1
00000000
00000

1/8

"
-0.031" to 0.031"
50
Rubber
0° to 140°
ASTM D1056 2C2, UL 94 HF-1
00000000
00000

3/16

"
-0.031" to 0.031"
50
Rubber
0° to 140°
ASTM D1056 2C2, UL 94 HF-1
00000000
00000

1/4

"
-0.031" to 0.031"
50
Rubber
0° to 140°
ASTM D1056 2C2, UL 94 HF-1
00000000
00000

3/8

"
-0.045" to 0.045"
25
Rubber
0° to 140°
ASTM D1056 2C2, UL 94 HF-1
00000000
00000

1/2

"
-0.045" to 0.045"
25
Rubber
0° to 140°
ASTM D1056 2C2, UL 94 HF-1
00000000
00000

3/4

"
-0.063" to 0.063"
25
Rubber
0° to 140°
ASTM D1056 2C2, UL 94 HF-1
00000000
00000
1"
-0.094" to 0.094"
25
Rubber
0° to 140°
ASTM D1056 2C2, UL 94 HF-1
00000000
00000

1/16

"
-0.031" to 0.031"
50
Rubber
0° to 140°
ASTM D1056 2C2, UL 94 HF-1
0000000
00000

1/8

"
-0.031" to 0.031"
50
Rubber
0° to 140°
ASTM D1056 2C2, UL 94 HF-1
0000000
00000

3/16

"
-0.031" to 0.031"
50
Rubber
0° to 140°
ASTM D1056 2C2, UL 94 HF-1
0000000
00000

1/4

"
-0.031" to 0.031"
50
Rubber
0° to 140°
ASTM D1056 2C2, UL 94 HF-1
0000000
00000

3/8

"
-0.045" to 0.045"
25
Rubber
0° to 140°
ASTM D1056 2C2, UL 94 HF-1
0000000
00000

1/2

"
-0.045" to 0.045"
25
Rubber
0° to 140°
ASTM D1056 2C2, UL 94 HF-1
0000000
00000

3/4

"
-0.063" to 0.063"
25
Rubber
0° to 140°
ASTM D1056 2C2, UL 94 HF-1
0000000
00000
1"
-0.094" to 0.094"
25
Rubber
0° to 140°
ASTM D1056 2C2, UL 94 HF-1
0000000
000000

1/16

"
-0.031" to 0.031"
50
Rubber
0° to 140°
ASTM D1056 2C2, UL 94 HF-1
00000000
00000

1/8

"
-0.031" to 0.031"
50
Rubber
0° to 140°
ASTM D1056 2C2, UL 94 HF-1
00000000
00000

3/16

"
-0.031" to 0.031"
50
Rubber
0° to 140°
ASTM D1056 2C2, UL 94 HF-1
00000000
00000

1/4

"
-0.031" to 0.031"
50
Rubber
0° to 140°
ASTM D1056 2C2, UL 94 HF-1
00000000
00000

3/8

"
-0.045" to 0.045"
25
Rubber
0° to 140°
ASTM D1056 2C2, UL 94 HF-1
00000000
00000

1/2

"
-0.045" to 0.045"
25
Rubber
0° to 140°
ASTM D1056 2C2, UL 94 HF-1
00000000
00000

3/4

"
-0.063" to 0.063"
25
Rubber
0° to 140°
ASTM D1056 2C2, UL 94 HF-1
00000000
000000
1"
-0.094" to 0.094"
25
Rubber
0° to 140°
ASTM D1056 2C2, UL 94 HF-1
00000000
000000

Soft

1/16

"
-0.015" to 0.015"
100
Rubber
0° to 140°
ASTM D1056 2C3, UL 94 HF-1
00000000
00000

1/8

"
-0.020" to 0.020"
50
Rubber
0° to 140°
ASTM D1056 2C3, UL 94 HF-1
00000000
0000

3/16

"
-0.025" to 0.025"
50
Rubber
0° to 140°
ASTM D1056 2C3, UL 94 HF-1
00000000
00000

1/4

"
-0.025" to 0.025"
50
Rubber
0° to 140°
ASTM D1056 2C3, UL 94 HF-1
00000000
00000

1/16

"
-0.015" to 0.015"
100
Rubber
0° to 140°
ASTM D1056 2C3, UL 94 HF-1
00000000
00000

1/8

"
-0.020" to 0.020"
50
Rubber
0° to 140°
ASTM D1056 2C3, UL 94 HF-1
00000000
00000

3/16

"
-0.025" to 0.025"
50
Rubber
0° to 140°
ASTM D1056 2C3, UL 94 HF-1
00000000
00000

1/4

"
-0.025" to 0.025"
50
Rubber
0° to 140°
ASTM D1056 2C3, UL 94 HF-1
00000000
00000

3/8

"
-0.035" to 0.035"
25
Rubber
0° to 140°
ASTM D1056 2C3, UL 94 HF-1
00000000
00000

1/2

"
-0.040" to 0.040"
25
Rubber
0° to 140°
ASTM D1056 2C3, UL 94 HF-1
00000000
00000

1/16

"
-0.015" to 0.015"
100
Rubber
0° to 140°
ASTM D1056 2C3, UL 94 HF-1
00000000
00000

1/8

"
-0.020" to 0.020"
50
Rubber
0° to 140°
ASTM D1056 2C3, UL 94 HF-1
00000000
00000

3/16

"
-0.025" to 0.025"
50
Rubber
0° to 140°
ASTM D1056 2C3, UL 94 HF-1
00000000
00000

1/4

"
-0.025" to 0.025"
50
Rubber
0° to 140°
ASTM D1056 2C3, UL 94 HF-1
00000000
00000

3/8

"
-0.035" to 0.035"
25
Rubber
0° to 140°
ASTM D1056 2C3, UL 94 HF-1
00000000
00000

1/2

"
-0.040" to 0.040"
25
Rubber
0° to 140°
ASTM D1056 2C3, UL 94 HF-1
00000000
00000

1/16

"
-0.015" to 0.015"
100
Rubber
0° to 140°
ASTM D1056 2C3, UL 94 HF-1
00000000
00000

1/8

"
-0.020" to 0.020"
50
Rubber
0° to 140°
ASTM D1056 2C3, UL 94 HF-1
00000000
00000

3/16

"
-0.025" to 0.025"
50
Rubber
0° to 140°
ASTM D1056 2C3, UL 94 HF-1
00000000
00000

1/4

"
-0.025" to 0.025"
50
Rubber
0° to 140°
ASTM D1056 2C3, UL 94 HF-1
00000000
00000

3/8

"
-0.035" to 0.035"
25
Rubber
0° to 140°
ASTM D1056 2C3, UL 94 HF-1
00000000
00000

1/2

"
-0.040" to 0.040"
25
Rubber
0° to 140°
ASTM D1056 2C3, UL 94 HF-1
00000000
00000

1/16

"
-0.015" to 0.015"
100
Rubber
0° to 140°
ASTM D1056 2C3, UL 94 HF-1
00000000
00000

1/8

"
-0.020" to 0.020"
50
Rubber
0° to 140°
ASTM D1056 2C3, UL 94 HF-1
00000000
00000

3/16

"
-0.025" to 0.025"
50
Rubber
0° to 140°
ASTM D1056 2C3, UL 94 HF-1
00000000
00000

1/4

"
-0.025" to 0.025"
50
Rubber
0° to 140°
ASTM D1056 2C3, UL 94 HF-1
00000000
00000

3/8

"
-0.035" to 0.035"
25
Rubber
0° to 140°
ASTM D1056 2C3, UL 94 HF-1
00000000
00000

1/2

"
-0.040" to 0.040"
25
Rubber
0° to 140°
ASTM D1056 2C3, UL 94 HF-1
00000000
00000

1/16

"
-0.015" to 0.015"
100
Rubber
0° to 140°
ASTM D1056 2C3, UL 94 HF-1
00000000
00000

1/8

"
-0.020" to 0.020"
50
Rubber
0° to 140°
ASTM D1056 2C3, UL 94 HF-1
00000000
00000

3/16

"
-0.025" to 0.025"
50
Rubber
0° to 140°
ASTM D1056 2C3, UL 94 HF-1
00000000
00000

1/4

"
-0.025" to 0.025"
50
Rubber
0° to 140°
ASTM D1056 2C3, UL 94 HF-1
00000000
00000

3/8

"
-0.035" to 0.035"
25
Rubber
0° to 140°
ASTM D1056 2C3, UL 94 HF-1
00000000
00000

1/2

"
-0.040" to 0.040"
25
Rubber
0° to 140°
ASTM D1056 2C3, UL 94 HF-1
00000000
00000

1/16

"
-0.015" to 0.015"
100
Rubber
0° to 140°
ASTM D1056 2C3, UL 94 HF-1
00000000
00000

1/8

"
-0.020" to 0.020"
50
Rubber
0° to 140°
ASTM D1056 2C3, UL 94 HF-1
00000000
00000

3/16

"
-0.025" to 0.025"
50
Rubber
0° to 140°
ASTM D1056 2C3, UL 94 HF-1
00000000
00000

1/4

"
-0.025" to 0.025"
50
Rubber
0° to 140°
ASTM D1056 2C3, UL 94 HF-1
00000000
00000

3/8

"
-0.035" to 0.035"
25
Rubber
0° to 140°
ASTM D1056 2C3, UL 94 HF-1
00000000
00000

1/2

"
-0.040" to 0.040"
25
Rubber
0° to 140°
ASTM D1056 2C3, UL 94 HF-1
00000000
00000

1/16

"
-0.015" to 0.015"
100
Rubber
0° to 140°
ASTM D1056 2C3, UL 94 HF-1
00000000
00000

1/8

"
-0.020" to 0.020"
50
Rubber
0° to 140°
ASTM D1056 2C3, UL 94 HF-1
00000000
00000

3/16

"
-0.025" to 0.025"
50
Rubber
0° to 140°
ASTM D1056 2C3, UL 94 HF-1
00000000
00000

1/4

"
-0.025" to 0.025"
50
Rubber
0° to 140°
ASTM D1056 2C3, UL 94 HF-1
00000000
00000

3/8

"
-0.035" to 0.035"
25
Rubber
0° to 140°
ASTM D1056 2C3, UL 94 HF-1
00000000
00000

1/2

"
-0.040" to 0.040"
25
Rubber
0° to 140°
ASTM D1056 2C3, UL 94 HF-1
00000000
00000

1/16

"
-0.015" to 0.015"
100
Rubber
0° to 140°
ASTM D1056 2C3, UL 94 HF-1
00000000
00000

1/8

"
-0.020" to 0.020"
50
Rubber
0° to 140°
ASTM D1056 2C3, UL 94 HF-1
00000000
00000

3/16

"
-0.025" to 0.025"
50
Rubber
0° to 140°
ASTM D1056 2C3, UL 94 HF-1
00000000
00000

1/4

"
-0.025" to 0.025"
50
Rubber
0° to 140°
ASTM D1056 2C3, UL 94 HF-1
00000000
00000

3/8

"
-0.035" to 0.035"
25
Rubber
0° to 140°
ASTM D1056 2C3, UL 94 HF-1
00000000
00000

1/2

"
-0.040" to 0.040"
25
Rubber
0° to 140°
ASTM D1056 2C3, UL 94 HF-1
00000000
00000

1/16

"
-0.015" to 0.015"
100
Rubber
0° to 140°
ASTM D1056 2C3, UL 94 HF-1
00000000
000000

1/8

"
-0.020" to 0.020"
50
Rubber
0° to 140°
ASTM D1056 2C3, UL 94 HF-1
00000000
000000

3/16

"
-0.025" to 0.025"
50
Rubber
0° to 140°
ASTM D1056 2C3, UL 94 HF-1
00000000
000000

1/4

"
-0.025" to 0.025"
50
Rubber
0° to 140°
ASTM D1056 2C3, UL 94 HF-1
00000000
000000

3/8

"
-0.035" to 0.035"
25
Rubber
0° to 140°
ASTM D1056 2C3, UL 94 HF-1
00000000
000000

1/2

"
-0.040" to 0.040"
25
Rubber
0° to 140°
ASTM D1056 2C3, UL 94 HF-1
00000000
000000