Scaffolds
These scaffolds provide the space and height to complete elevated projects that most work platforms can't reach. Each scaffold requires three planks (sold separately). Scaffolds are only OSHA compliant when used with two or more planks on a work level.
Note: Scaffolds meet OSHA dimensional standards. Users are responsible for checking local, state, and federal codes, including OSHA, for safe installation and operating practices.
For technical drawings and 3-D models, click on a part number.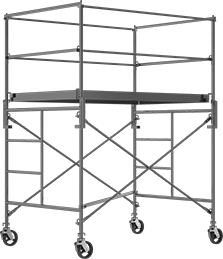 Ht.

Wd.,




ft.

Material
Color

Cap.,




lbs.

Toeboard


Ht.

Wheel
Configuration

No.

of
Wheel
Brakes
Assembled
or
Unassembled
Includes
Specifications
Met
Each
10'10"
5
Painted Steel
Black
2,000
4"
Four Swivel Casters
4
Unassembled
Bottom Diagonal Brace, Four Cross Braces, Four End Frames, Guardrail Posts, Guardrail/Midrail, Midside Rail, Toeboard, Top Rail
OSHA Compliant 29 CFR 1926.451, ANSI/ASSP A10.8
0000000
000000000
8'7"
5
Painted Steel
Black
2,000
__
Four Swivel Casters
4
Unassembled
Bottom Diagonal Brace, Guardrail Posts, Guardrails/Midrails, Midside Rail, Two Cross Braces, Two End Frames
OSHA Compliant 29 CFR 1926.451, ANSI/ASSP A10.8
0000000
00000000
10'10"
5
Painted Steel
Black
2,000
4"
Four Swivel Casters
4
Unassembled
Bottom Diagonal Brace, Four Cross Braces, Four End Frames, Guardrail Posts, Guardrail/Midrail, Midside Rail, Toeboard, Top Rail
OSHA Compliant 29 CFR 1926.451, ANSI/ASSP A10.8
0000000
00000000
8'7"
5
Painted Steel
Black
2,000
__
Four Swivel Casters
4
Unassembled
Bottom Diagonal Brace, Guardrail Posts, Guardrails/Midrails, Midside Rail, Two Cross Braces, Two End Frames
OSHA Compliant 29 CFR 1926.451, ANSI/ASSP A10.8
0000000
00000000
Material
Plank
Tread

Wd.

Ht.

Ht.

Material

Cap.,




lbs.

Wt.,




lbs.

Features
Specifications
Met
Each
Aluminum
Perforated
19

1/16

"
3"
3"
Aluminum
250
25
2" End Hooks
ANSI/ASSP A10.8, OSHA Compliant 29 CFR 1926.451, UL 1322
0000000
0000000
Plywood
Smooth
19

1/16

"
3

1/2

"
3

1/2

"
Aluminum
250
27
2" End Hooks
ANSI/ASSP A10.8, OSHA Compliant 29 CFR 1926.451, UL 1322
0000000
000000
Aluminum
Perforated
19

1/16

"
4"
4"
Aluminum
250
43
2" End Hooks
ANSI/ASSP A10.8, OSHA Compliant 29 CFR 1926.451, UL 1322
0000000
000000
Plywood
Smooth
19

1/16

"
4

1/2

"
4

1/2

"
Aluminum
250
47
2" End Hooks
ANSI/ASSP A10.8, OSHA Compliant 29 CFR 1926.451, UL 1322
0000000
000000
| | | | |
| --- | --- | --- | --- |
| Component | Material | | Each |
| Cross Brace for 10-ft. Plank Lg. | Zinc-Plated Steel | 0000000 | 000000 |
| Bottom Diagonal Brace for 7-ft. Plank Lg. | Galvanized Steel | 0000000 | 000000 |
| Bottom Diagonal Brace for 10-ft. Plank Lg. | Galvanized Steel | 0000000 | 000000 |
| End Frame | Red Painted Steel | 0000000 | 000000 |
| Toggle Pin | Steel | 0000000 | 0000 |
| Coupling Pin | Steel | 0000000 | 0000 |
| Spring Clip | Steel | 0000000 | 0000 |
| Locking Swivel Caster | Zinc-Plated Steel | 0000000 | 00000 |
| Base Plate (5" × 5") | Zinc-Plated Steel | 0000000 | 00000 |
| Adjusting Screw | Zinc-Plated Steel | 0000000 | 00000 |