Expansion Plugs with Bypass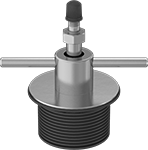 G
Use the bypass tube on these plugs to add air, water, and other fluid to your pipeline or to relieve pressure while testing. Maximum air back pressure is the amount of pressure a plug can withstand without moving. Maximum water back pressure refers to the pressure resulting from the height of the water above the plug.
Style G plugs have a Schrader valve, which has an internal spring that holds the valve shut until you depress the pin, providing control over air flow.
For technical drawings and 3-D models, click on a part number.
Size

ID

Air,


psi

Water,




ft.

of
head

O'all




Ht.

Temp.




Range,




°F

Seal
Bypass
Cap
Thread
Type
Thread
Size
Each

Steel Stem

3/4

0.72"-0.79"
10
23
3

7/16

"
-40° to 210°
Neoprene Rubber
Plastic
Schrader Valve
0.305"-32
00000000
0000000

7/8

0.81"-0.89"
10
23
3

5/8

"
-40° to 210°
Neoprene Rubber
Plastic
Schrader Valve
0.305"-32
00000000
000000
1

0.94"-1.03"
10
23
3

3/4

"
-40° to 210°
Neoprene Rubber
Plastic
Schrader Valve
0.305"-32
00000000
000000
1

1/2

1.44"-1.58"
10
23
4"
-40° to 210°
Neoprene Rubber
Plastic
Schrader Valve
0.305"-32
00000000
000000
2

1/2

2.44"-2.71"
5
12
4

15/16

"
-40° to 210°
Neoprene Rubber
Plastic
Schrader Valve
0.305"-32
00000000
000000