Turning Carbide Insert Holders

Pair these holders with an ANSI standard carbide insert (sold separately). When one edge of the insert dulls, rotate it to use another edge. Right-hand holders cut from right to left, left-hand holders cut from left to right, and neutral holders can cut in either direction.
S series holders are best for finishing operations but can also be used for medium cuts.
SSDC Holders with Straight Shank—For Along-the-Length Turning, Chamfering, and Facing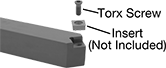 Economy Inserts for SSDC Holders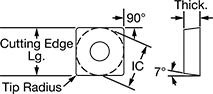 Insert
Code
Inscribed
Circle


Dia.

(IC)

Thick.

Cutting
Edge


Lg.

Tip
Radius
For
Cutting
Operation
Finish
Coating
Process

1-9

10-Up

For Use On

Aluminum,

Brass,

Bronze

SCMT-32.52

3/8

"

5/32

"
0.38"

1/32

"
Medium
Uncoated
__
0000000
00000
00000

For Use On

Steel,

Stainless Steel

SCMT-32.52

3/8

"

5/32

"
0.38"

1/32

"
Medium
Titanium Nitride (TiN) Coated
PVD (Physical Vapor Deposition)
0000000
0000
0000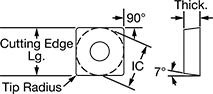 Insert
Code
Inscribed
Circle


Dia.

(IC)

Thick.

Cutting
Edge


Lg.

Tip
Radius
For
Cutting
Operation
Finish
Coating
Process

1-9

10-Up

For Use On

Aluminum,

Brass,

Bronze,

Cast

Iron,

Nickel,

Stainless

Steel,

Steel,

and Titanium

SCMT-32.51

3/8

"

5/32

"
0.36"

1/64

"
Finishing
Aluminum Chromium Oxide ((Al,Cr)₂O₃) Coated
PVD (Physical Vapor Deposition)
00000000
000000
000000
SCMT-32.52

3/8

"

5/32

"
0.34"

1/32

"
Medium
Aluminum Chromium Oxide ((Al,Cr)₂O₃) Coated
PVD (Physical Vapor Deposition)
00000000
00000
00000

For Use On

Aluminum,

Brass,

and Bronze

SCMT-32.51

3/8

"

5/32

"
0.36"

1/64

"
Medium
Uncoated
__
00000000
00000
0000
SCMT-32.52

3/8

"

5/32

"
0.34"

1/32

"
Medium
Uncoated
__
00000000
00000
00000

For Use On Stainless Steel

SCMT-32.51

3/8

"

5/32

"
0.36"

1/64

"
Medium
Titanium Nitride (TiN) Coated
CVD (Chemical Vapor Deposition)
00000000
00000
00000
SCMT-32.52

3/8

"

5/32

"
0.34"

1/32

"
Medium
Titanium Nitride (TiN) Coated
CVD (Chemical Vapor Deposition)
00000000
00000
00000

For Use On Steel

SCMT-32.51

3/8

"

5/32

"
0.36"

1/64

"
Medium
Titanium Nitride (TiN) Coated
CVD (Chemical Vapor Deposition)
00000000
00000
00000
SCMT-32.52

3/8

"

5/32

"
0.34"

1/32

"
Medium
Titanium Nitride (TiN) Coated
CVD (Chemical Vapor Deposition)
00000000
00000
00000