High-Pressure

Inline Filters
Remove small particles in lines that reach up to 5,000 psi to protect sensitive equipment, such as hydraulic controls. These inline filters act as a secondary defense to trap particles that make it past your intake filter without adding bulk to your line.
Brass filters resist some corrosion. Stainless steel filters resist corrosion better than brass filters.
Choose filters with an access port to install a new filter element without replacing the entire unit or removing it from your line. These filters take up slightly more space than those without access ports.
Filters with NPT Female Threaded Pipe Connection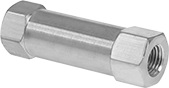 Female NPT Pipe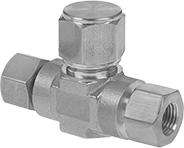 Female NPT Pipe with Access Port
316 Stainless Steel Housing

Pipe
Size

Removes Particle Size
Down

To,

microns
Features

Max.




Pressure,


psi

Max.




Temp.,




°F

Each

Max.




Pressure,


psi

Max.




Temp.,




°F

Each

1/8

10
__
1,000
300°
0000000
000000
3,000
450°
0000000
0000000

1/4

10
__
1,000
300°
0000000
00000
3,000
450°
0000000
000000

1/4

10
Filter Access Port
3,000
450°
0000000
000000
5,000
450°
0000000
000000
Filters with Female Compression Tube Connection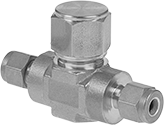 Female Compression Tube with Access Port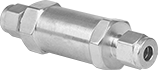 Female Compression Tube
316 Stainless Steel Housing

For
Tube
OD
Removes Particle
Size Down


To,

microns
Features

Max.




Pressure,


psi

Max.




Temp.,




°F

Each

Max.




Pressure,


psi

Max.




Temp.,




°F

Each

1/8

"
10
Filter Access Port
3,000
450°
0000000
0000000
5,000
450°
0000000
0000000

1/4

"
10
__
1,000
300°
0000000
00000
3,000
450°
0000000
000000

1/4

"
10
Filter Access Port
3,000
450°
0000000
000000
5,000
450°
0000000
000000
Replacement Filter Element for Filters with Access Port

Ht.

OD
ID
Removes Particle Size
Down

To,

microns
Material

Max.




Temp.,

° F

Each

3/4

"

1/2

"

3/8

"
10
316 Stainless Steel
450°
0000000
000000