System of Measurement

System of Measurement
For Use With

For Use With
Show
For Use With

For Use With
Hide
Warning: Products have one, but not necessarily all, of the selected characteristics.
Screen Material

Screen Material
Screen Construction

Screen Construction
| | |
| --- | --- |
| | |
RoHS (Restriction of Hazardous Substances)

RoHS

(Restriction

of
Hazardous

Substances)
Screen Opening Size

Screen Opening Size
For Strainer Type

For Strainer Type
DFARS (Defense Acquisition Regulations Supplement)

DFARS

(Defense

Acquisition
Regulations

Supplement)
Screens for Stainless Steel
Quick-Clamp
T-Strainers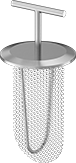 Use these replacement screens with our Stainless Steel Quick-Clamp T-Strainers. Designed for use in dairy, food, and other process lines that use clean-in-place (CIP) systems, they prevent damage to pumps, valves, and other downstream components. Insert the screen into the strainer, then add a gasket and clamp to seal. The screen catches particles larger than 1/8" without restricting flow.
For Tube
OD
For
Flange
OD
Screen
Opening
Size
Screen


Lg.

Screen
Material
For
Use
With
Each
1

1/2

"
1.984"

1/8

"
3

1/2

"
316 Stainless Steel
Beverage, Dairy, Food, Pharmaceuticals, Water
0000000
0000000
2"
2.516"

1/8

"
4

1/2

"
316 Stainless Steel
Beverage, Dairy, Food, Pharmaceuticals, Water
0000000
000000
2

1/2

"
3.047"

1/8

"
4

3/4

"
316 Stainless Steel
Beverage, Dairy, Food, Pharmaceuticals, Water
0000000
000000
3"
3.579"

1/8

"
5

1/4

"
316 Stainless Steel
Beverage, Dairy, Food, Pharmaceuticals, Water
0000000
000000