System of Measurement

System of Measurement
Maximum Temperature

Maximum Temperature
DFARS (Defense Acquisition Regulations Supplement)

DFARS

(Defense

Acquisition

Regulations

Supplement)
Weight per Sq. Yd.

Weight per

Sq.

Yd.
Flame-

and

Heat-Resistant

Blankets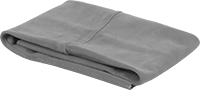 Leather
Blankets are for intermittent contact with flames and hot surfaces.
Leather blankets are lightweight and have excellent abrasion resistance. Use them in medium duty welding and auto body applications to protect from sparks and spatter.
For made-to-order blankets, minimum size is 22 sq. ft.
Thick.,


mil
Weight per


Sq.

Yd.,

oz.

Max.




Temp.,

° F

Clarity
Color
Per


Sq.

Ft.

Leather

70
3
400°
Opaque
Orange
0000000
000000