Corrosion-Inhibiting

Box-Shaped

Tarps
Protect equipment against condensation buildup and corrosion with these specially treated tarps. Their box shape provides a snug fit while protecting machinery and other objects. They're heat shrinkable, UV, water, and rot resistant, and stay flexible in extremely low temperatures.
Tarps with drawstring cover equipment and secure at the bottom.
Tarps with a zipper fully encase equipment on all sides for maximum protection.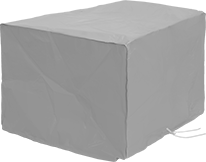 Tarps with Drawstring
Wd.

Lg.

Ht.

Number
of
Sides

Thick.,


mil
Water
Resistance
Breathable
UV
Resistant

Min.


Temperature
for

Flexibility,

°F

Features
Color
Each

Polyethylene Fabric

3'
2'
3'
5
18
Water Resistant
Yes
Yes
-30°
1" Lg. Fabric Loop Tie-Off
Beige
0000000
000000
4'
3'
3'
5
18
Water Resistant
Yes
Yes
-30°
1" Lg. Fabric Loop Tie-Off
Beige
0000000
00000
4'
4'
3'
5
18
Water Resistant
Yes
Yes
-30°
1" Lg. Fabric Loop Tie-Off
Beige
0000000
00000
5'
5'
3'
5
18
Water Resistant
Yes
Yes
-30°
1" Lg. Fabric Loop Tie-Off
Beige
0000000
00000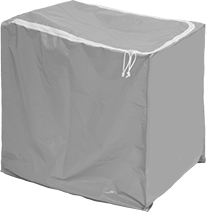 Tarps with Zipper
Wd.

Lg.

Ht.

Number
of Sides

Thick.,


mil
Water Resistance
Breathable
UV
Resistant

Min.

Temperature
for

Flexibility,

°F

Color
Each

Polyethylene Fabric

3'
2'
3'
6
18
Water Resistant
Yes
Yes
-30°
Beige
000000
000000
4'
3'
3'
6
18
Water Resistant
Yes
Yes
-30°
Beige
000000
00000
4'
4'
3'
6
18
Water Resistant
Yes
Yes
-30°
Beige
0000000
000000
5'
5'
3'
6
18
Water Resistant
Yes
Yes
-30°
Beige
0000000
000000