Vertical and horizontal serrations and a tip shaped to firmly grip the outside of screw heads remove stripped, rusty, and tamper-resistant screws. These pliers can also be used for general gripping and cutting wire. The handles have plastic grips for comfort.
Overall


Lg.

For Screw
Head

Dia.

Lg.

Texture
Material
With Wire
Cutter

Max.


Gauge

Max.




Dia.

Type

Each

Curved Jaws and Cushion Grip

6

1/4

"
0.078"-0.156"
1

1/8

"
Serrated
Steel
Yes
16
0.051"
Soft Wire, Nickel Ribbon Wire
00000000
000000
8"
0.125"-0.594"
1"
Serrated
Steel
Yes
9
0.114"
Soft Wire, Nickel Ribbon Wire
00000000
00000
Screw-Extracting

Long-Nose

Pliers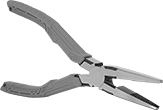 Pull stripped, rusted, and tamper-resistant screws out of hard-to-reach places. These pliers have jaws with vertical and horizontal serrations to firmly bite down on screw heads and a long nose to fit in tight spaces. In addition to removing screws, you can use these pliers to grip small workpieces. They're also equipped with a wire cutter at the base of the nose. For comfort, these pliers have cushioned grips on the handles.
Overall
Length
Diameter
Range
Height
Range
Length
Opening
Style
Texture
Tip
Thickness
Material
With
Wire
Cutter
Maximum
Gauge
Maximum
Diameter
Type

Each

Flat Jaws and Cushion Grip

7

1/2

"
0.079"-0.216"
0.039"-0.086"
1

3/32

"
Manual
Serrated

13/64

"
Carbon Steel
Yes
17
0.047"
Soft Wire, Nickel Ribbon Wire
0000000
000000