Electrical-Insulating

Awls

An insulated handle and shaft protects against shock from accidental contact with live electrical circuits. These awls are tested to 1,000 volts to meet IEC 60900 and ASTM F1505. Use to punch soft materials and scribe lines in metal and wood.
Handle
Material
Blade
Material
Tip
Material
Blade


Lg.

O'all




Lg.

Each
Plastic
Plastic
Steel
3.5"
6

1/2

"
0000000
000000
Lightweight Electric Engravers with
Steel,

Carbide,

and Diamond Tips
Made of aluminum, this pen-shaped engraver is lightweight to reduce writing strain. It has two speed settings for controlling the depth of your marks.
Carbide tip is for general purpose engraving.
Steel tip is for engraving plastic.
Diamond tip allows you to engrave extra-hard materials such as stone, ceramic, and hard metal.

Strokes
per Minute
Current
Voltage

Weight,




lbs.

Tip
Style
Carbide
For Use On
Steel For
Use On
Diamond
For Use On
Plug
Type
Cord


Lg.,

ft.

Each
7,200
0.1A
120V AC
0.6
Point
Acrylic Plastic, Aluminum, Brass, Bronze, Copper, Iron, Lead, Nickel, Rubber, Stainless Steel, Tin, Wood
Acrylic Plastic, Rubber
Ceramic, Glass, Phenolic Plastic, Steel, Stone
Two Prong
6
0000000
0000000
Air-Powered

Engraver Kits with Steel and Carbide Tips
Includes an engraver, four interchangeable tips, a tip holder, an air filter, and a portable case. Connect these engravers to a compressed air line. Higher strokes per minute means they cut more smoothly than electric engravers.
Angled chisel tip is used for cleaning weld beads. Requires tip holder for operation.
Flat tip can be ground to a shape that suits your application. Requires tip holder for operation.
Flat chisel tip works well for scaling and deburring. Requires tip holder for operation.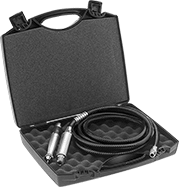 Stroke
Speed
Control
Strokes
per
Minute
Flow
Rate
ID

Lg.,




ft.

Gender
Thread
Type
Pipe
Size

Weight,




lbs.

Carbide
Tip
Style
Steel
Tip
Style
Carbide
For Use
On
Steel
For
Use On
Includes
Each
Adjustable
13,500
1.1 cfm @ 90 psi

3/16

"
8
Male
NPT

1/4

0.3
Point
Angled Chisel, Flat, Flat Chisel
Acrylic Plastic, Aluminum, Brass, Bronze, Copper, Iron, Lead, Nickel, Rubber, Stainless Steel, Tin, Wood
Acrylic Plastic, Rubber
Air Filter, Carrying Case, Tip Holder
0000000
0000000

Point Tip

Flat Tip

Angled Chisel Tip

Flat Chisel Tip
Material
Style
For
Use
On
Each
Carbide
Point
Acrylic Plastic, Aluminum, Brass, Bronze, Copper, Iron, Lead, Nickel, Rubber, Stainless Steel, Tin, Wood
0000000
000000
Steel
Flat
Acrylic Plastic, Rubber
0000000
00000
Steel
Angled Chisel
Acrylic Plastic, Rubber
0000000
000000
Steel
Flat Chisel
Acrylic Plastic, Rubber
0000000
000000