Flat Disc Springs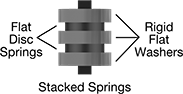 These flat rubber springs handle heavy loads, similar to Belleville disc springs, and resist oxidation, oil, and abrasion.
When stacking, separate springs with rigid flat washers. The washers must be large enough to cover the entire surface of the springs.
Deflection is the distance a spring compresses under load.
For technical drawings and 3-D models, click on a part number.
For
Shaft


Dia.

ID
OD

Thick.

Compressed


Ht.

@
Working Load
Deflection @
Working
Load
Working


Load,




lbs.

Material
Hardness
Hardness
Tolerance
Temperature


Range,




°F

Pkg.




Qty.

Pkg.

3/16

"
0.203"
0.5"
0.125"
0.112"
0.013"
150
Polyurethane Rubber
Durometer 95A
0 to 5
-20 ° to 200°
6
000000000
00000

1/4

"
0.253"
0.814"
0.125"
0.112"
0.013"
405
Polyurethane Rubber
Durometer 95A
0 to 5
-20 ° to 200°
6
000000000
00000

1/4

"
0.265"
0.5"
0.25"
0.225"
0.025"
100
Polyurethane Rubber
Durometer 95A
0 to 5
-20 ° to 200°
6
000000000
00000

1/4

"
0.281"
0.625"
0.25"
0.225"
0.025"
198
Polyurethane Rubber
Durometer 95A
0 to 5
-20 ° to 200°
6
000000000
00000

1/4

"
0.312"
0.75"
0.125"
0.112"
0.013"
294
Polyurethane Rubber
Durometer 95A
0 to 5
-20 ° to 200°
6
000000000
00000

5/16

"
0.343"
0.75"
0.125"
0.112"
0.013"
250
Polyurethane Rubber
Durometer 95A
0 to 5
-20 ° to 200°
6
000000000
00000

5/16

"
0.375"
0.875"
0.125"
0.112"
0.013"
312
Polyurethane Rubber
Durometer 95A
0 to 5
-20 ° to 200°
6
000000000
00000

3/8

"
0.386"
0.75"
0.25"
0.225"
0.025"
295
Polyurethane Rubber
Durometer 95A
0 to 5
-20 ° to 200°
6
000000000
00000

3/8

"
0.391"
0.625"
0.25"
0.225"
0.025"
150
Polyurethane Rubber
Durometer 95A
0 to 5
-20 ° to 200°
6
000000000
00000

3/8

"
0.395"
1"
0.125"
0.112"
0.013"
716
Polyurethane Rubber
Durometer 95A
0 to 5
-20 ° to 200°
6
000000000
00000

3/8

"
0.406"
0.875"
0.125"
0.112"
0.013"
518
Polyurethane Rubber
Durometer 95A
0 to 5
-20 ° to 200°
6
000000000
00000

15/32

"
0.453"
0.75"
0.25"
0.225"
0.025"
180
Polyurethane Rubber
Durometer 95A
0 to 5
-20 ° to 200°
6
000000000
00000

1/2

"
0.516"
0.875"
0.25"
0.225"
0.025"
325
Polyurethane Rubber
Durometer 95A
0 to 5
-20 ° to 200°
6
000000000
00000

1/2

"
0.531"
1.063"
0.125"
0.112"
0.013"
700
Polyurethane Rubber
Durometer 95A
0 to 5
-20 ° to 200°
3
000000000
00000

1/2

"
0.562"
1.375"
0.125"
0.112"
0.013"
1,600
Polyurethane Rubber
Durometer 95A
0 to 5
-20 ° to 200°
3
000000000
00000

5/8

"
0.641"
1.188"
0.25"
0.225"
0.025"
700
Polyurethane Rubber
Durometer 95A
0 to 5
-20 ° to 200°
3
000000000
00000

3/4

"
0.766"
1.313"
0.25"
0.225"
0.025"
700
Polyurethane Rubber
Durometer 95A
0 to 5
-20 ° to 200°
1
000000000
0000

3/4

"
0.781"
1.625"
0.125"
0.12"
0.005"
1,150
Polyurethane Rubber
Durometer 95A
0 to 5
-20 ° to 200°
1
000000000
0000
1"
1.031"
2"
0.25"
0.23"
0.02"
1,700
Polyurethane Rubber
Durometer 95A
0 to 5
-20 ° to 200°
1
000000000
0000