Removable Drill Bushings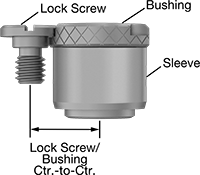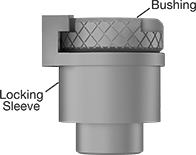 Replace worn bushings and quickly change IDs without needing to repeatedly use a lever press. Instead of pressing bushings in and out of your jig fixture, which can cause damage, these bushings slide in and out of sleeves (sold separately). By swapping in a bushing with a different ID, you can change the size of your bit and still use the same hole in your fixture. All are made to tight dimensional tolerances for consistent, accurate results, even as you change them in and out. They're also known as slip-fixed and renewable bushings.
Choose a sleeve with a length that matches the length of your bushing. To prevent bushings from spinning inside the sleeve as you drill, pair a standard sleeve with a lock screw, or use a locking sleeve.
Lock screws thread into a hole in your jig. The head of the screw fits into a notch on the bushing's head, which keeps the bushing from spinning.
Locking sleeves act as a sleeve and lock screw at the same time. They have a raised flange that fits into the notch on the bushing's head, keeping the bushing in place.
For additional sizes, see Made-to-Order Removable Drill Bushings.
For technical drawings and 3-D models, click on a part number.
Made-to-Order

Removable Drill Bushings
Reusable and easy to change out, these bushings are held in place by the included slotted head lock screw. They can also be used as spacers, shims, and machinery bushings. Also known as slip-fixed or renewable bushings.
To Order: Specify ID, OD, and length from the ranges listed.
For technical drawings and 3-D models, click on a part number.
Choose
an ID
Choose
an OD
Choose
a Length
Length
Tolerance
Drill Bushing
Type
Material
Hardness

1-5

6-11

12-Up

0.0135" to 2.2656" in 0.0001" increments
0.1562" to 2.7500" in 0.0001" increments
0.125" to 3" in 0.0625" increments
-0.015" to 0.015"
SF
Steel
Rockwell C61
00000000
000000
000000
000000
Quick-Disconnect

(QD)

Bushings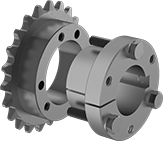 Clamp On

The screw connections on these bushings easily mate to compatible quick-disconnect sprockets and pulleys. Bushings fit quick-disconnect (QD) sprockets and pulleys of the same bushing style. As you tighten the included screws, the bushing grips the shaft and pulls it into the sprocket or pulley.
For technical drawings and 3-D models, click on a part number.
For Shaft


Dia.

Overall


Wd.

Wd.

Dp.

Fastener Tightening


Torque,

in.-lbs.

Material
Includes
Each

Clamp On

SF Style Bushing

1/2

"
2

1/2

"

1/8

"

1/16

"
360
Steel
Clamping Screws
00000000
000000

5/8

"
2

1/2

"

3/16

"

3/32

"
360
Steel
Clamping Screws
00000000
00000

3/4

"
2

1/2

"

3/16

"

3/32

"
360
Steel
Clamping Screws
00000000
00000

7/8

"
2

1/2

"

3/16

"

3/32

"
360
Steel
Clamping Screws
00000000
00000
1"
2

1/2

"

1/4

"

1/8

"
360
Steel
Clamping Screws
00000000
00000
1

1/8

"
2

1/2

"

1/4

"

1/8

"
360
Steel
Clamping Screws
00000000
00000
1

3/16

"
2

1/2

"

1/4

"

1/8

"
360
Steel
Clamping Screws
00000000
00000
1

1/4

"
2

1/2

"

1/4

"

1/8

"
360
Steel
Clamping Screws
00000000
00000
1

3/8

"
2

1/2

"

5/16

"

5/32

"
360
Steel
Clamping Screws
00000000
00000
1

7/16

"
2

1/2

"

3/8

"

3/16

"
360
Steel
Clamping Screws
00000000
00000
1

1/2

"
2

1/2

"

3/8

"

3/16

"
360
Steel
Clamping Screws
00000000
00000
1

5/8

"
2

1/2

"

3/8

"

3/16

"
360
Steel
Clamping Screws
00000000
00000
1

11/16

"
2

1/2

"

3/8

"

3/16

"
360
Steel
Clamping Screws
00000000
00000
1

3/4

"
2

1/2

"

3/8

"

3/16

"
360
Steel
Clamping Screws
00000000
00000
1

7/8

"
2

1/2

"

1/2

"

1/4

"
360
Steel
Clamping Screws
00000000
00000
1

15/16

"
2

1/2

"

1/2

"

1/4

"
360
Steel
Clamping Screws
00000000
00000
2"
2

1/2

"

1/2

"

1/4

"
360
Steel
Clamping Screws
00000000
00000
2

1/8

"
2

1/2

"

1/2

"

1/4

"
360
Steel
Clamping Screws
00000000
00000
2

3/16

"
2

1/2

"

1/2

"

1/4

"
360
Steel
Clamping Screws
00000000
00000
2

1/4

"
2

1/2

"

1/2

"

1/4

"
360
Steel
Clamping Screws
00000000
00000
2

3/8

"
2

1/2

"

5/8

"

3/16

"
360
Steel
Clamping Screws, Machine Key
00000000
00000
2

7/16

"
2

1/2

"

5/8

"

3/16

"
360
Steel
Clamping Screws, Machine Key
00000000
00000
2

1/2

"
2

1/2

"

5/8

"

3/16

"
360
Steel
Clamping Screws, Machine Key
00000000
00000
2

5/8

"
2

1/2

"

5/8

"

1/16

"
360
Steel
Clamping Screws, Machine Key
00000000
00000
2

3/4

"
2

1/2

"

5/8

"

1/16

"
360
Cast Iron
Clamping Screws, Machine Key
00000000
00000
2

15/16

"
2

1/2

"

3/4

"

1/32

"
360
Cast Iron
Clamping Screws, Machine Key
00000000
00000
30mm
60mm
8mm
3.3mm
360
Steel
Clamping Screws
0000000
00000
35mm
64mm
10mm
3.3mm
360
Steel
Clamping Screws
0000000
00000
40mm
64mm
12mm
3.3mm
360
Steel
Clamping Screws
0000000
00000
50mm
64mm
14mm
3.8mm
360
Steel
Clamping Screws
0000000
00000
55mm
64mm
16mm
4.3mm
360
Steel
Clamping Screws
0000000
00000
60mm
64mm
18mm
4.4mm
360
Steel
Clamping Screws
0000000
00000