Heavy Duty
Shackles—

For Lifting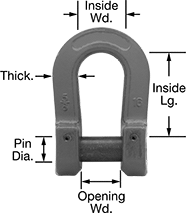 The strongest shackles we offer, these connectors have a pin with flush ends that prevents snagging and accidental disengagement. They can be assembled and disassembled with a hammer.
Replacement load pin kits come with a load pin to connect the shackle to your chain and two retaining pins to keep the load pin in place. Each shackle requires two retaining pins.
Note: Capacities listed are for vertical lifting only. As the lift angle changes from vertical, the amount of weight the shackle can lift is significantly reduced.