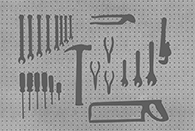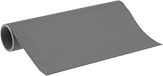 Keep track of where tools, supplies, and equipment go on pegboards and other wall organizers. Use these silhouettes to make your own shadow board—simply trace your items on the vinyl tape, cut the shapes out, and then peel off the backings to stick the shapes on hardboard, plastic, and metal panels. Cutouts can be repositioned if the tool layout changes.
Marking Tape

Outline and draw attention to safety zones and hazards with this tape.
Vinyl plastic tape is more conformable and moisture resistant than paper tape.
Wd.

Lg.,




ft.

Overall


Thick.

Adhesive
Type
Temperature


Range,

°F

Tensile

Strength,




lbs./in.

wd.

Adhesion to


Steel,

oz./in.

wd.

Choose a Color
Each

1/4

"
108
0.0052"
Rubber
40° to 170°
10
20
0000000
00000

1/2

"
108
0.0052"
Rubber
40° to 170°
10
20
0000000
00000

3/4

"
108
0.0052"
Rubber
40° to 170°
10
20
0000000
00000
1"
108
0.0052"
Rubber
40° to 170°
10
20
0000000
00000
1

1/2

"
108
0.0052"
Rubber
40° to 170°
10
20
Blue
0000000
00000
2"
108
0.0052"
Rubber
40° to 170°
10
20
0000000
00000
3"
108
0.0052"
Rubber
40° to 170°
10
20
0000000
00000
4"
108
0.0052"
Rubber
40° to 170°
10
20
0000000
00000