Shaft Repair Sleeves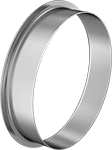 Also known as speedi sleeves, use these to repair and protect worn shafts for a smooth sealing surface without machining. Each sleeve comes with an installation tool. To install, place the installation tool around the sleeve and gently tap the installation tool until the sleeve covers the worn shaft surface.
For technical drawings and 3-D models, click on a part number.
Dia.

Dia.

Range

Max.


Installed

Dp.

Sealing
Face

Wd.

OD

Wd.

Sleeve


Thick.

Each

300 Series Stainless Steel

1/2

"
0.498"-0.502"
2.000"
0.250"
0.610"
0.094"
0.011"
0000000
000000

5/8

"
0.623"-0.627"
2.000"
0.313"
0.750"
0.093"
0.011"
0000000
00000

3/4

"
0.748"-0.752"
2.000"
0.313"
0.945"
0.125"
0.011"
0000000
00000

7/8

"
0.873"-0.877"
2.000"
0.313"
1.094"
0.125"
0.011"
0000000
00000
1"
0.998"-1.002"
2.000"
0.313"
1.219"
0.125"
0.011"
0000000
00000
1

1/8

"
1.123"-1.127"
0.688"
0.375"
1.500"
0.125"
0.011"
0000000
00000
1

1/4

"
1.247"-1.253"
0.688"
0.313"
1.500"
0.125"
0.011"
0000000
00000
1

3/8

"
1.375"-1.381"
0.813"
0.512"
1.638"
0.118"
0.011"
0000000
00000
1

1/2

"
1.497"-1.503"
1.016"
0.563"
1.781"
0.125"
0.011"
0000000
00000
1

5/8

"
1.622"-1.628"
0.813"
0.563"
1.875"
0.125"
0.011"
0000000
00000
1

3/4

"
1.747"-1.753"
0.813"
0.750"
2.063"
0.125"
0.011"
0000000
00000
1

7/8

"
1.872"-1.878"
1.000"
0.688"
2.203"
0.125"
0.011"
0000000
00000
2"
1.997"-2.003"
1.000"
0.875"
2.406"
0.125"
0.011"
0000000
00000
2

1/8

"
2.123"-2.128"
1.281"
0.500"
2.422"
0.250"
0.011"
0000000
00000
2

1/4

"
2.249"-2.255"
1.313"
0.781"
2.531"
0.157"
0.011"
0000000
00000
2

3/8

"
2.374"-2.380"
1.375"
0.781"
2.750"
0.157"
0.011"
0000000
00000
2

1/2

"
2.500"-2.506"
1.375"
0.781"
2.820"
0.157"
0.011"
0000000
00000
2

5/8

"
2.625"-2.631"
1.375"
0.781"
3.047"
0.157"
0.011"
0000000
00000
2

3/4

"
2.750"-2.756"
1.312"
1.125"
3.125"
0.125"
0.011"
0000000
00000
2

7/8

"
2.873"-2.879"
1.250"
0.781"
3.219"
0.157"
0.011"
0000000
00000
3"
3.000"-3.006"
1.281"
0.813"
3.235"
0.187"
0.011"
0000000
00000