Selecting Compatible Lead Screws and Nuts
Multipurpose 304 Stainless Steel
From cookware to chemical-processing equipment, 304 stainless steel is a good all-around choice for a wide range of applications. It maintains its corrosion resistance in temperatures up to 1500° F.
If you don't see the rod size you're looking for, please specify a length under additional 304/304L stainless steel rod lengths.
For technical drawings and 3-D models, click on a part number.

Certificates with a traceable lot number are available for these products. Download certificates from ACTIVITY after your order ships.
Metric Precision Ball Screws and Nuts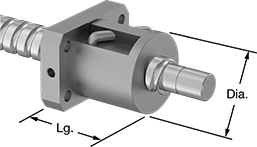 Precision cut threads make these metric ball screws approximately four times more accurate than standard ball screws. Use them when exact positioning is essential. They come with finished ends and the nut already on, so they're ready to use right away. The ball nuts have a flange design that makes it easy to mount objects on them. Inside, they have ball bearings to produce smooth, low-friction travel for applications that require high-speed and repeatable movement.
Ball nuts with a travel distance per trun greater than 1 mm have a seal that prevents some contaminants from getting inside them. However, to make sure they don't create torque and heat, there's a bit of clearance between the seal and screw, so the seal can't keep out everything.
Root diameter indicates the diameter the ball screw will be after machining away the threads.
Travel distance per turn, also known as screw lead, is the distance a ball nut moves with one revolution of the ball screw.
For technical drawings and 3-D models, click on a part number.
Thread
Size

Lg.,


mm
Root


Dia.,


mm

Lg.,


mm

Dia.,


mm

No.

of
Thread
Starts
Travel
Distance
per

Turn,

mm
Accuracy for
Travel
Distance per Turn
Hardness
Dynamic
Thrust
Load

Cap.,

lbs.

Max.




Backlash,


mm

Temp.




Range,




°F

Each

Carbon Steel Ball Screw with Alloy Steel Flange Ball Nut

M10

240
7.8
39
26
1
10
±0.023 mm per 300 mm
Rockwell C58
290
0
Not Rated to 175°
00000000
0000000
M10

290
7.8
39
26
1
10
±0.023 mm per 300 mm
Rockwell C58
290
0
Not Rated to 175°
00000000
000000
M10

340
7.8
39
26
1
10
±0.023 mm per 300 mm
Rockwell C58
290
0
Not Rated to 175°
00000000
000000
M10

390
7.8
39
26
1
10
±0.023 mm per 300 mm
Rockwell C58
290
0
Not Rated to 175°
00000000
000000
M10

440
7.8
39
26
1
10
±0.023 mm per 300 mm
Rockwell C58
290
0
Not Rated to 175°
00000000
00000000
M14

230
11.9
33
26
1
4
±0.023 mm per 300 mm
Rockwell C58
940
0
Not Rated to 175°
00000000
000000
M14

280
11.9
33
26
1
4
±0.023 mm per 300 mm
Rockwell C58
940
0
Not Rated to 175°
00000000
000000
M14

330
11.9
33
26
1
4
±0.023 mm per 300 mm
Rockwell C58
940
0
Not Rated to 175°
00000000
000000
M14

430
11.9
33
26
1
4
±0.023 mm per 300 mm
Rockwell C58
940
0
Not Rated to 175°
00000000
00000000
M14

530
11.9
33
26
1
4
±0.023 mm per 300 mm
Rockwell C58
940
0
Not Rated to 175°
00000000
00000000