About
Copper,

Brass,

and Bronze
Hardened Undersized
High-Speed

M2 Tool Steel Rods

Yield

Strength:

Not Rated

Hardness:

Rockwell C60

(Very

Hard)
These rods, also known as drill blanks, have an undersized diameter for machining your own jobbers'-length drill bits. They're hardened for increased abrasion and impact resistance. M2 tool steel offers a nice balance of wear resistance and machinability. It has a high molybdenum content, which allows it to maintain sharp cutting edges even at elevated temperatures.
For technical drawings and 3-D models, click on a part number.

Certificates with a traceable lot number are available for these products. Download certificates from ORDER HISTORY after your order ships.
Dia.

Dia.

Tolerance
Drill Bit
Size

Lg.

Mechanical Finish
Straightness
Tolerance
Each
3.5mm
-0.0050mm to 0.0000mm
3.5 mm
2

7/8

"
Precision Ground
0.012" per ft.
00000000
00000
Ultra-Formable

260 Brass Rods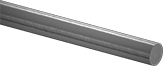 Yield

Strength:


Inch

sizes:

Not Rated
Metric

sizes:

9,

000 psi

Hardness:

Not Rated

Temper:

H01 (

1/4

Hard)

Heat

Treatable:

No
Specifications

Met:

ASTM B134
The most formable brass we offer, 260 offers better weldability than 300 series brass but it's not as machinable. Sometimes called cartridge brass, it's commonly used for ammunition casings, radiator components, and decorative door hardware.
For technical drawings and 3-D models, click on a part number.