Electrical-Insulating

Sleeve Washers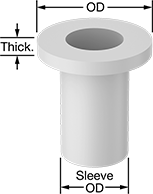 Also known as shoulder or insulator washers, these nonmetal washers block electrical current and prevent galvanic corrosion from mating different types of metal.
Nylon 6/6 washers have good abrasion resistance. Exposure to moisture may cause them to expand.
PTFE washers have excellent chemical resistance and a slippery surface that resists wear in high-friction applications.
Ceramic washers withstand high temperatures and resist moisture as well as hydrochloric and nitric acid gases.
Hard fiber washers resist organic solvents and petroleum-based oil.
For technical drawings and 3-D models, click on a part number.
For
Screw
Size
ID
OD
Sleeve
OD

Thick.

Overall


Ht.

Min.

Max.

Hardness
Color

Pkg.




Qty.

Pkg.

No. 2
0.090"
0.181"
0.120"
0.047"
0.172"
-40°
180°
Rockwell R108
Off-White
100
000000000
00000
No. 2
0.090"
0.181"
0.120"
0.047"
0.297"
-40°
180°
Rockwell R108
Off-White
100
000000000
0000
No. 2
0.090"
0.181"
0.120"
0.047"
0.422"
-40°
180°
Rockwell R108
Off-White
100
000000000
0000
No. 2
0.093"
0.250"
0.156"
0.040"
0.080"
-40°
180°
__
Black
100
000000000
0000
No. 2
0.093"
0.250"
0.156"
0.040"
0.080"
-40°
180°
Rockwell M71
Off-White
100
000000000
0000
No. 4
0.115"
0.235"
0.145"
0.047"
0.094"
-40°
180°
Rockwell R108
Off-White
100
000000000
00000
No. 4
0.115"
0.235"
0.145"
0.047"
0.110"
-40°
180°
Rockwell R108
Off-White
100
000000000
00000
No. 4
0.115"
0.235"
0.145"
0.047"
0.172"
-40°
180°
Rockwell R108
Off-White
100
000000000
00000
No. 4
0.115"
0.235"
0.145"
0.047"
0.297"
-40°
180°
Rockwell R108
Off-White
100
000000000
00000
No. 4
0.115"
0.235"
0.145"
0.047"
0.422"
-40°
180°
Rockwell R108
Off-White
100
000000000
00000
No. 4
0.115"
0.235"
0.145"
0.047"
0.547"
-40°
180°
Rockwell R108
Off-White
100
000000000
00000
No. 4
0.115"
0.242"
0.140"
0.046"
0.171"
-40°
180°
Rockwell R108
Off-White
100
000000000
00000
No. 4
0.115"
0.250"
0.143"
0.031"
0.093"
-40°
180°
Rockwell R108
Off-White
100
000000000
00000
No. 4
0.118"
0.250"
0.139"
0.046"
0.171"
-40°
180°
Rockwell R108
Off-White
100
000000000
00000
No. 4
0.120"
0.253"
0.136"
0.047"
0.099"
-40°
180°
Rockwell R108
Off-White
100
000000000
0000
No. 4
0.122"
0.281"
0.187"
0.040"
0.080"
-40°
180°
__
Black
100
000000000
00000
No. 4
0.122"
0.281"
0.187"
0.040"
0.080"
-40°
180°
Rockwell M71
Off-White
100
000000000
00000
No. 4
0.125"
0.312"
0.185"
0.058"
0.370"
-40°
180°
Rockwell R108
Off-White
100
000000000
0000
No. 6
0.140"
0.250"
0.187"
0.062"
0.093"
-40°
180°
Rockwell R108
Off-White
100
000000000
00000
No. 6
0.140"
0.290"
0.170"
0.047"
0.094"
-40°
180°
Rockwell R108
Off-White
100
000000000
00000
No. 6
0.140"
0.290"
0.170"
0.047"
0.110"
-40°
180°
Rockwell R108
Off-White
100
000000000
00000
No. 6
0.140"
0.290"
0.170"
0.047"
0.172"
-40°
180°
Rockwell R108
Off-White
100
000000000
00000
No. 6
0.140"
0.290"
0.170"
0.047"
0.235"
-40°
180°
Rockwell R108
Off-White
100
000000000
00000
No. 6
0.140"
0.290"
0.170"
0.047"
0.297"
-40°
180°
Rockwell R108
Off-White
100
000000000
00000
No. 6
0.140"
0.290"
0.170"
0.047"
0.422"
-40°
180°
Rockwell R108
Off-White
100
000000000
00000
No. 6
0.140"
0.290"
0.170"
0.047"
0.547"
-40°
180°
Rockwell R108
Off-White
100
000000000
00000
No. 6
0.146"
0.328"
0.218"
0.040"
0.080"
-40°
180°
__
Black
100
000000000
00000
No. 6
0.146"
0.328"
0.218"
0.040"
0.080"
-40°
180°
Rockwell M71
Off-White
100
000000000
00000
No. 8
0.171"
0.345"
0.209"
0.062"
0.109"
-40°
180°
Rockwell R108
Off-White
100
000000000
00000
No. 8
0.171"
0.375"
0.250"
0.040"
0.086"
-40°
180°
Rockwell R108
Off-White
100
000000000
00000
No. 8
0.171"
0.375"
0.250"
0.040"
0.290"
-40°
180°
Rockwell R108
Off-White
100
000000000
00000
No. 8
0.173"
0.344"
0.205"
0.063"
0.188"
-40°
180°
Rockwell R108
Off-White
100
000000000
00000
No. 8
0.173"
0.344"
0.205"
0.063"
0.204"
-40°
180°
Rockwell R108
Off-White
100
000000000
00000
No. 8
0.173"
0.344"
0.205"
0.063"
0.313"
-40°
180°
Rockwell R108
Off-White
100
000000000
00000
No. 8
0.173"
0.344"
0.205"
0.063"
0.438"
-40°
180°
Rockwell R108
Off-White
100
000000000
00000
No. 8
0.173"
0.344"
0.205"
0.063"
0.563"
-40°
180°
Rockwell R108
Off-White
100
000000000
00000
No. 8
0.173"
0.344"
0.205"
0.063"
0.688"
-40°
180°
Rockwell R108
Off-White
100
000000000
00000
No. 8
0.173"
0.344"
0.205"
0.063"
0.813"
-40°
180°
Rockwell R108
Off-White
100
000000000
00000
No. 8
0.174"
0.375"
0.250"
0.050"
0.100"
-40°
180°
__
Black
100
000000000
00000
No. 8
0.174"
0.375"
0.250"
0.050"
0.100"
-40°
180°
Rockwell M71
Off-White
100
000000000
00000
No. 10
0.187"
0.375"
0.245"
0.031"
0.171"
-40°
180°
Rockwell R108
Off-White
100
000000000
00000
No. 10
0.191"
0.513"
0.312"
0.062"
0.437"
-40°
180°
Rockwell R108
Off-White
50
000000000
0000
No. 10
0.196"
0.500"
0.308"
0.063"
0.125"
-40°
180°
Rockwell R108
Off-White
50
000000000
00000
No. 10
0.197"
0.408"
0.240"
0.062"
0.249"
-40°
180°
Rockwell R108
Off-White
100
000000000
0000
No. 10
0.199"
0.433"
0.312"
0.063"
0.188"
-40°
180°
Rockwell R108
Off-White
100
000000000
0000
No. 10
0.200"
0.399"
0.260"
0.063"
0.204"
-40°
180°
Rockwell R108
Off-White
100
000000000
00000
No. 10
0.200"
0.399"
0.260"
0.063"
0.251"
-40°
180°
Rockwell R108
Off-White
100
000000000
00000
No. 10
0.200"
0.399"
0.260"
0.063"
0.313"
-40°
180°
Rockwell R108
Off-White
100
000000000
00000
No. 10
0.200"
0.399"
0.260"
0.063"
0.438"
-40°
180°
Rockwell R108
Off-White
100
000000000
00000
No. 10
0.200"
0.399"
0.260"
0.063"
0.563"
-40°
180°
Rockwell R108
Off-White
100
000000000
00000
No. 10
0.200"
0.399"
0.260"
0.063"
0.688"
-40°
180°
Rockwell R108
Off-White
100
000000000
00000
No. 10
0.200"
0.399"
0.260"
0.063"
0.813"
-40°
180°
Rockwell R108
Off-White
100
000000000
00000
No. 10
0.200"
0.500"
0.312"
0.062"
0.374"
-40°
180°
Rockwell R108
Off-White
100
000000000
00000
No. 10
0.201"
0.437"
0.281"
0.046"
0.092"
-40°
180°
Rockwell R108
Off-White
100
000000000
00000
No. 10
0.201"
0.437"
0.281"
0.050"
0.100"
-40°
180°
__
Black
100
000000000
00000
No. 10
0.201"
0.437"
0.281"
0.050"
0.100"
-40°
180°
Rockwell M71
Off-White
100
000000000
00000
No. 10
0.202"
0.433"
0.310"
0.079"
0.394"
-40°
180°
Rockwell R108
Off-White
100
000000000
0000
No. 12
0.220"
0.408"
0.240"
0.062"
0.249"
-40°
180°
Rockwell R108
Off-White
100
000000000
00000
No. 12
0.240"
0.480"
0.315"
0.079"
0.315"
-40°
180°
Rockwell R108
Off-White
100
000000000
0000

1/4

"
0.250"
0.425"
0.310"
0.062"
0.124"
-40°
180°
Rockwell R108
Off-White
100
000000000
00000

1/4

"
0.250"
0.500"
0.375"
0.062"
0.499"
-40°
180°
Rockwell R108
Off-White
100
000000000
00000

1/4

"
0.250"
0.600"
0.370"
0.125"
0.250"
-40°
180°
Rockwell R108
Off-White
100
000000000
00000

1/4

"
0.252"
0.500"
0.312"
0.031"
0.062"
-40°
180°
Rockwell R108
Off-White
100
000000000
00000

1/4

"
0.254"
0.630"
0.375"
0.062"
0.249"
-40°
180°
Rockwell R108
Off-White
100
000000000
00000

1/4

"
0.255"
0.464"
0.312"
0.016"
0.094"
-40°
180°
Rockwell R108
Off-White
100
000000000
00000

1/4

"
0.255"
0.467"
0.312"
0.046"
0.171"
-40°
180°
Rockwell R108
Off-White
100
000000000
00000

1/4

"
0.255"
0.563"
0.375"
0.062"
0.499"
-40°
180°
Rockwell R108
Off-White
100
000000000
00000

1/4

"
0.255"
0.625"
0.322"
0.062"
0.249"
-40°
180°
Rockwell R108
Off-White
100
000000000
00000

1/4

"
0.257"
0.500"
0.375"
0.125"
0.295"
-40°
180°
Rockwell R108
Off-White
100
000000000
00000

1/4

"
0.257"
0.505"
0.343"
0.062"
0.155"
-40°
180°
Rockwell R108
Off-White
100
000000000
00000

1/4

"
0.260"
0.450"
0.310"
0.065"
0.190"
-40°
180°
Rockwell R108
Off-White
100
000000000
00000

1/4

"
0.260"
0.505"
0.312"
0.063"
0.157"
-40°
180°
Rockwell R108
Off-White
100
000000000
00000

1/4

"
0.260"
0.513"
0.312"
0.031"
0.281"
-40°
180°
Rockwell R108
Off-White
100
000000000
00000

1/4

"
0.260"
0.513"
0.312"
0.063"
0.188"
-40°
180°
Rockwell R108
Off-White
100
000000000
00000

1/4

"
0.260"
0.513"
0.312"
0.063"
0.251"
-40°
180°
Rockwell R108
Off-White
100
000000000
00000

1/4

"
0.260"
0.513"
0.312"
0.063"
0.313"
-40°
180°
Rockwell R108
Off-White
100
000000000
00000

1/4

"
0.260"
0.513"
0.312"
0.063"
0.438"
-40°
180°
Rockwell R108
Off-White
100
000000000
00000

1/4

"
0.260"
0.513"
0.312"
0.063"
0.563"
-40°
180°
Rockwell R108
Off-White
100
000000000
00000

1/4

"
0.260"
0.513"
0.312"
0.063"
0.688"
-40°
180°
Rockwell R108
Off-White
100
000000000
00000

1/4

"
0.260"
0.513"
0.312"
0.063"
0.813"
-40°
180°
Rockwell R108
Off-White
100
000000000
00000

1/4

"
0.260"
0.515"
0.312"
0.062"
0.202"
-40°
180°
Rockwell R108
Off-White
100
000000000
00000

1/4

"
0.260"
0.562"
0.375"
0.060"
0.120"
-40°
180°
__
Black
100
000000000
00000

1/4

"
0.260"
0.562"
0.375"
0.060"
0.120"
-40°
180°
Rockwell M71
Off-White
100
000000000
00000

1/4

"
0.260"
0.630"
0.327"
0.063"
0.188"
-40°
180°
Rockwell R108
Off-White
50
000000000
0000

1/4

"
0.261"
0.513"
0.312"
0.063"
0.438"
-40°
180°
Rockwell R108
Off-White
100
000000000
00000

1/4

"
0.266"
0.697"
0.359"
0.062"
0.187"
-40°
180°
Rockwell R108
Off-White
100
000000000
00000

5/16

"
0.320"
0.620"
0.360"
0.063"
0.188"
-40°
180°
Rockwell R108
Off-White
100
000000000
00000