Peel-Away

Layered Shim Stock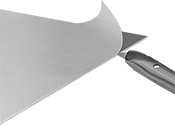 Cut this shim stock it into custom shapes to fit your application. Stock is made of layers of material bonded with adhesive; remove layers with a utility knife until you get the thickness you need. To make the layers easier to pull apart, gently heat the shim to soften the adhesive.
For accurate leveling, choose materials such as steel or stainless steel, which are hard enough to resist scratching and deforming. Softer shims, like copper or aluminum, can be used as wear plates between components that rub together, preventing damage to equipment.
18-8 stainless steel shim stock is more corrosion resistant than carbon steel shim stock.
Carbon steel shim stock has excellent strength and can be welded, but isn't as corrosion resistant as other shim stock.
Aluminum shim stock is lightweight and nonmagnetic. It has good corrosion resistance.
Brass shim stock is corrosion resistant and nonmagnetic.
Polyimide plastic shim stock is corrosion resistant, electrically insulating, and holds its shape at extreme temperatures. It's easier to peel apart than metal shim stock. Stock includes a material certificate with traceable lot number and test report.
For technical drawings and 3-D models, click on a part number.