Tapered Shims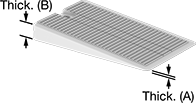 PVC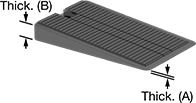 Polypropylene
Ridges keep these shims from sliding apart when stacked. Use them to align cabinets, doors, and windows, or for other rough leveling.
Shims are made of plastic to resist moisture and prevent rot. Polypropylene shims are rigid. PVC shims are flexible.
For technical drawings and 3-D models, click on a part number.