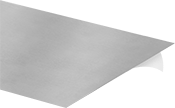 A durable acrylic adhesive keeps this shim stock from sliding out of place. Cut it into custom shapes to fit your application. Shim stock is corrosion resistant. It includes a material certificate with traceable lot number and test report.
For precise leveling, 18-8 stainless steel shim stock is hard enough to resist scratching and deforming.
For technical drawings and 3-D models, click on a part number.
Thick.

Thick.


Tolerance
Material


Thick.

Adhesive


Thick.

Adhesive
Type

Min.

Temper
Rating
Specifications
Met
Liner
Type
Magnetic
Properties
Each
0.011"
-0.00045" to 0.00045"
0.009"
0.002"
Acrylic
Rockwell C40
Full Hard
ASTM A666
Paper
May Be Mildly Magnetic
00000000
000000