Shoulder Screw Assortments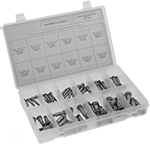 Shoulder screws have a cylindrical shoulder under the head that allows parts to rotate around or slide along its length. They have a standard shoulder with an undersized tolerance to fit most machinery and equipment.
Alloy steel shoulder screws are stronger than stainless steel shoulder screws. They are comparable to Grade 8 screws.
18-8 stainless steel shoulder screws are chemical resistant and may be mildly magnetic.
For technical drawings and 3-D models, click on a part number.
Number
of Pieces
Shoulder Screws Included
Container
Type
Each

Alloy Steel

60

1/4

" Shoulder Diameter × 10-24 ×

1/2

" Lg. (5 Pieces)


1/4

" Shoulder Diameter × 10-24 ×

3/4

" Lg. (5 Pieces)


1/4

" Shoulder Diameter × 10-24 × 1" Lg. (5 Pieces)


5/16

" Shoulder Diameter ×

1/4

"-20 ×

1/2

" Lg. (5 Pieces)


5/16

" Shoulder Diameter ×

1/4

"-20 ×

3/4

" Lg. (5 Pieces)


5/16

" Shoulder Diameter ×

1/4

"-20 × 1" Lg. (5 Pieces)


3/8

" Shoulder Diameter ×

5/16

"-18 ×

1/2

" Lg. (5 Pieces)


3/8

" Shoulder Diameter ×

5/16

"-18 ×

3/4

" Lg. (5 Pieces)


3/8

" Shoulder Diameter ×

5/16

"-18 × 1" Lg. (5 Pieces)


1/2

" Shoulder Diameter ×

3/8

"-16 ×

1/2

" Lg. (5 Pieces)


1/2

" Shoulder Diameter ×

3/8

"-16 ×

3/4

" Lg. (5 Pieces)


1/2

" Shoulder Diameter ×

3/8

"-16 × 1" Lg. (5 Pieces)
Plastic Box
000000000
0000000
60

1/4

" Shoulder Diameter × 10-24 ×

1/2

" Lg. (5 Pieces)


1/4

" Shoulder Diameter × 10-24 ×

3/4

" Lg. (5 Pieces)


1/4

" Shoulder Diameter × 10-24 × 1" Lg. (5 Pieces)


5/16

" Shoulder Diameter ×

1/4

"-20 ×

1/2

" Lg. (5 Pieces)


5/16

" Shoulder Diameter ×

1/4

"-20 ×

3/4

" Lg. (5 Pieces)


5/16

" Shoulder Diameter ×

1/4

"-20 × 1" Lg. (5 Pieces)


3/8

" Shoulder Diameter ×

5/16

"-18 ×

1/2

" Lg. (5 Pieces)


3/8

" Shoulder Diameter ×

5/16

"-18 ×

3/4

" Lg. (5 Pieces)


3/8

" Shoulder Diameter ×

5/16

"-18 × 1" Lg. (5 Pieces)


1/2

" Shoulder Diameter ×

3/8

"-16 ×

1/2

" Lg. (5 Pieces)


1/2

" Shoulder Diameter ×

3/8

"-16 ×

3/4

" Lg. (5 Pieces)


1/2

" Shoulder Diameter ×

3/8

"-16 × 1" Lg. (5 Pieces)
Plastic Box
000000000
000000