Stretchable Elastic Caps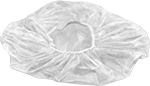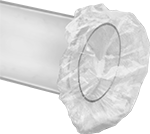 Similar to a shower cap, these caps have an elastic band that allows them to stretch and cover a variety of shapes in a range of sizes. They are often used in masking applications to protect against contaminants.
Disposable Hats and Hairnets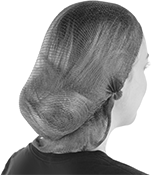 Hairnet with Neck Guard

Mesh

Solid
Keep your hair out of the way to prevent stray hairs from contaminating food.
Bouffant-style hats and hairnets cover your entire head. For short- to medium-length hair, use those with a 20" to 21" stretched diameter; for longer or thicker hair, choose a 24" stretched diameter. Hats and hairnets with a neck guard also extend down the back of your neck to cover neck hairs.
Metal-detectable hats and hairnets have a built-in metal clip that will set off metal detectors if they fall into your food line. They're also bright blue, which makes them easy to spot. Use them to help you comply with Hazard Analysis and Critical Control Point (HACCP) programs.
Polypropylene fabric offers economical protection in environments where liquid splashes are not a concern.
Polyester fabric is lightweight mesh, which provides excellent breathability for all day wear.
Tyvek polyethylene fabric holds up to occasional contact with nonhazardous liquids, such as water and paint spray. It is made of heat- and pressure-bonded fibers that form a barrier that's soft yet strong.
Kleenguard polypropylene fabric is made of five layers of nonwoven fabric, so it is harder to tear than Tyvek polyethylene. It holds up to occasional contact with nonhazardous liquids, such as water and paint spray. The material is antistatic, so it protects sensitive equipment from electrostatic discharge.
Material
Stretched
Diameter
Performance
Properties
Choose a Color

Pkg.




Qty.

Pkg.

Mesh

Polypropylene Fabric
21"
Metal-Detectable
Blue
100
0000000
000000
Polyester Fabric
20"
__
100
0000000
00000
Polyester Fabric
24"
__
100
0000000
00000

Bouffant-Style

with Neck Guard

Polypropylene Fabric
20"
Metal-Detectable
Blue
100
0000000
00000

Solid

Polypropylene Fabric
21"
__
100
000000
0000
Tyvek Polyethylene Fabric
21"
__
White
10
0000000
00000
Kleenguard Polypropylene Fabric
24"
__
White
50
00000000
00000
Clean Room Hats and Hairnets

Also known as bouffants, these hats and hairnets keep hair contained to reduce contamination. Designed to meet clean room standards, they act as a barrier between the worker and the room to prevent pollutants, such as dust particles and microbes, from contaminating a space. They are rated Class 100 for use in clean rooms containing fewer than 100 particles larger than 0.5 microns in each cubic foot of air space. Use these hats and hairnets for short- to medium-length hair.
Environmental Rating
Material
Stretched
Diameter
Color
Each
Fed. Std. Class 100, ISO Class 5
Tyvek Polyethylene Fabric
21"
White
00000000
00000