Showers
Flow
Rate

Ht.

No.


of
Hole


Ctr.-to-Ctr.

Pipe
Size
Thread
Type
Gender
Shower
Head
Material
Riser
Pipe
Material
Valve
Material

No.


of
Holes
Fasteners
Included
Hole


Ctr.-to-Ctr.

Each
1.5 gpm @ 80 psi
24"
2
3

1/2

"

1/2

NPT

Female
Chrome-Plated Plastic, Chrome-Plated Zinc
Galvanized Steel
Chrome-Plated Brass
2
Yes
3

3/4

"
0000000
000000
Shower Valves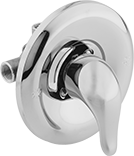 Maintain a precise water temperature and pressure with this scald-resistant valve. For easy maintenance the water can be shut off at the valve. This valve helps you comply with ADA when properly installed.
Plate


Dia.

Pipe
Size
Thread
Type
Gender
Pipe
Size
Thread
Type
Gender
Valve
Material
Plate
Material
Handle
Material
Specifications
Met
Each
6

1/2

"

1/2

NPT

Female

1/2

NPT

Female
Brass
Chrome-Plated Stainless Steel
Chrome-Plated Zinc
ASSE 1016 T/P, CSA Certified
0000000
0000000
Shower Heads
A

B

C

D
For quick adjustment, the heads swivel on a ball joint.
Standard changes from full spray to trickle with the push of a button.
Concentrated spray pattern produces a high flow rate and can be used for decontamination.
Adjustable spray pattern can be adjusted from a solid stream to a wide fan.
Heads that cannot be sold to Colorado are restricted by local energy efficiency requirements.
Style
Head
Type
Flow
Rate

Dia.

Pipe
Size
Thread
Type
Gender
Material
Cannot
Be
Sold To
Each
A
Standard
1.8 gpm @ 80 psi
1"

1/2

NPS
Female
Chrome-Plated Brass, Stainless Steel
__
0000000
000000
B
Concentrated
1.5 gpm @ 80 psi
1

1/8

"

1/2

NPT

Female
Chrome-Plated Brass
CO
0000000
00000
C
Adjustable
1.8 gpm @ 80 psi
2

5/8

"

1/2

NPT

Female
Chrome-Plated Brass
__
0000000
00000
D
Adjustable
1.5 gpm @ 80 psi
1

1/2

"

1/2

NPT

Female
Chrome-Plated Brass
CO
000000
00000
D
Adjustable
1.5 gpm @ 80 psi
2

1/4

"

1/2

NPT

Female
Chrome-Plated Brass
CO
000000
00000