Selecting Clamps Using
Pipe,

Conduit,

or Tubing Trade Size
Side-Load

Threaded-Rod-Mount

Loop Hangers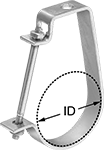 Access material quickly without uninstalling the hanger. These hangers have a removable bolt for loading pipe, tube, and conduit from the side. Combine them with a threaded rod or other fastener to hang from the ceiling. To mount, slide threaded rod into the unthreaded hole on top of the hanger and secure with a nut (sold separately).
Hangers with side mounting hole can be mounted to a wall with a fastener.
Zinc-plated steel hangers have good corrosion resistance. 304 stainless steel hangers have excellent corrosion resistance.
For technical drawings and 3-D models, click on a part number.
Inch

Metric,


mm
For
Pipe
Size

For
Thread
Size

Cap.,




lbs.

Lg.

Wd.

Ht.

Thick.

Side
Top
Includes
Each
1

1/16

"
27

3/4

3/8

"-16

400
2

7/16

"
1"
3

3/8

"

1/8

"

7/16

"

3/8

"
Closure Bolt and Nut
0000000
00000
1

5/16

"
33
1

3/8

"-16

400
2

11/16

"
1"
3

9/16

"

1/8

"

7/16

"

3/8

"
Closure Bolt and Nut
0000000
0000
1

11/16

"
43
1

1/4

3/8

"-16

400
3"
1"
4

1/16

"

1/8

"

7/16

"

3/8

"
Closure Bolt and Nut
0000000
0000
1

7/8

"
48
1

1/2

3/8

"-16

400
3

5/16

"
1"
4

1/2

"

1/8

"

7/16

"

3/8

"
Closure Bolt and Nut
0000000
0000
2

3/8

"
60
2

3/8

"-16

400
3

11/16

"
1"
4

7/8

"

1/8

"

7/16

"

3/8

"
Closure Bolt and Nut
0000000
0000
2

7/8

"
73
2

1/2

1/2

"-13

500
4

5/16

"
1

1/4

"
5

13/16

"

1/8

"

9/16

"

9/16

"
Closure Bolt and Nut
0000000
0000
3

1/2

"
89
3

1/2

"-13

500
4

7/8

"
1

1/4

"
6

9/16

"

1/8

"

9/16

"

9/16

"
Closure Bolt and Nut
0000000
0000
4"
102
3

1/2

1/2

"-13

800
5

1/2

"
1

1/4

"
8"

1/8

"
__

1/2

"
Closure Bolt and Nut
0000000
00000
4

1/2

"
114
4

5/8

"-11

550
6

1/4

"
1

1/4

"
8

1/4

"

3/16

"

9/16

"

11/16

"
Closure Bolt and Nut
0000000
00000
5

9/16

"
141
5

5/8

"-11

550
7

3/16

"
1

1/4

"
9

3/8

"

3/16

"

9/16

"

11/16

"
Closure Bolt and Nut
0000000
00000
6

5/8

"
168
6

3/4

"-10

600
8

1/2

"
1

1/4

"
10

7/8

"

1/4

"

9/16

"

13/16

"
Closure Bolt and Nut
0000000
00000

304 Stainless Steel

1

1/16

"
27

3/4

3/8

"-16

400
2

7/16

"
1"
3

3/8

"

1/8

"

7/16

"

7/16

"
Closure Bolt and Nut
0000000
0000
1

5/16

"
33
1

3/8

"-16

400
2

1/2

"
1"
3

5/8

"

1/8

"

7/16

"

7/16

"
Closure Bolt and Nut
0000000
0000
1

11/16

"
43
1

1/4

3/8

"-16

400
2

7/8

"
1"
4

1/8

"

1/8

"

7/16

"

7/16

"
Closure Bolt and Nut
0000000
00000
1

7/8

"
48
1

1/2

3/8

"-16

400
3

1/8

"
1"
4

9/16

"

1/8

"

7/16

"

7/16

"
Closure Bolt and Nut
0000000
00000
2

3/8

"
60
2

3/8

"-16

400
3

9/16

"
1"
4

7/8

"

1/8

"

7/16

"

7/16

"
Closure Bolt and Nut
0000000
00000
2

7/8

"
73
2

1/2

1/2

"-13

500
4

3/4

"
1

1/4

"
5

7/8

"

1/8

"

9/16

"

9/16

"
Closure Bolt and Nut
0000000
00000
3

1/2

"
89
3

1/2

"-13

500
5"
1

1/4

"
6

5/8

"

1/8

"

9/16

"

9/16

"
Closure Bolt and Nut
0000000
00000
4"
102
3

1/2

1/2

"-13

500
5

1/2

"
1

1/4

"
7

1/8

"

1/8

"

9/16

"

9/16

"
Closure Bolt and Nut
0000000
00000
4

1/2

"
114
4

5/8

"-11

550
6"
1

1/4

"
8

3/8

"

3/16

"

9/16

"

11/16

"
Closure Bolt and Nut
0000000
00000
5

9/16

"
141
5

5/8

"-11

550
7

1/4

"
1

1/4

"
9

9/16

"

3/16

"

9/16

"

11/16

"
Closure Bolt and Nut
0000000
00000
6

5/8

"
168
6

3/4

"-10

600
8

3/8

"
1

1/4

"
11

1/16

"

1/4

"

9/16

"

13/16

"
Closure Bolt and Nut
0000000
00000